By Tom Evans
Published: 04/08/2022
-
10:20
Updated: 04/08/2022
-
11:05
Ms Braverman, fresh from her own campaign in the Tory leadership race, is endorsing Liz Truss to take over as the country's next Prime Minister.
With Ms Truss and Rishi Sunak battling it out for the keys to No 10, Ms Braverman has urged her Cabinet colleagues to get tougher on "woke rubbish".
---
And, appearing on GB News' Breakfast with Isabel and Stephen, she explained why.
Ms Braverman told viewers she had seen the "indoctrination of professional people" first-hand, arguing that this is often "patronising, disempowering and divisive".

She clarified: "I have nothing against tolerant, inclusive and meritocratic workplaces. Don't get me wrong.

"What I do have a problem with is the indoctrination of very fair-minded professional and reasonable people with a left-wing and politicised ideology which engenders a particular view of race and gender.

"What I found happening in my department is that thousands of hours were being spent on training Government lawyers on really questionable issues."

It came after Ms Braverman declared a "war on woke witch trials", announcing that she had scrapped training schemes in her department in the wake of high-profile court cases centred on transgender and equality issues.

She was said to have been "absolutely furious" to find out that more than 1,000 of her employees, including 600 lawyers, had participated in some 1,900 hours of diversity courses.

Civil servants were allegedly told "not being racist isn't enough – we must be anti-racist" during one lecture.

Ms Braverman told MailPlus: "Like the witch-finders of the Middle Ages, they don the outfit of the inquisitor and never tire of rooting out unbelievers.

"This does nothing to create solidarity and support but rather keeps emphasising difference, creating a sense of 'other' and pitting different groups against each other."

Ms Braverman, who was voted out in the second round of the Tory leadership contest in July, had pledged to stand up to "woke rubbish".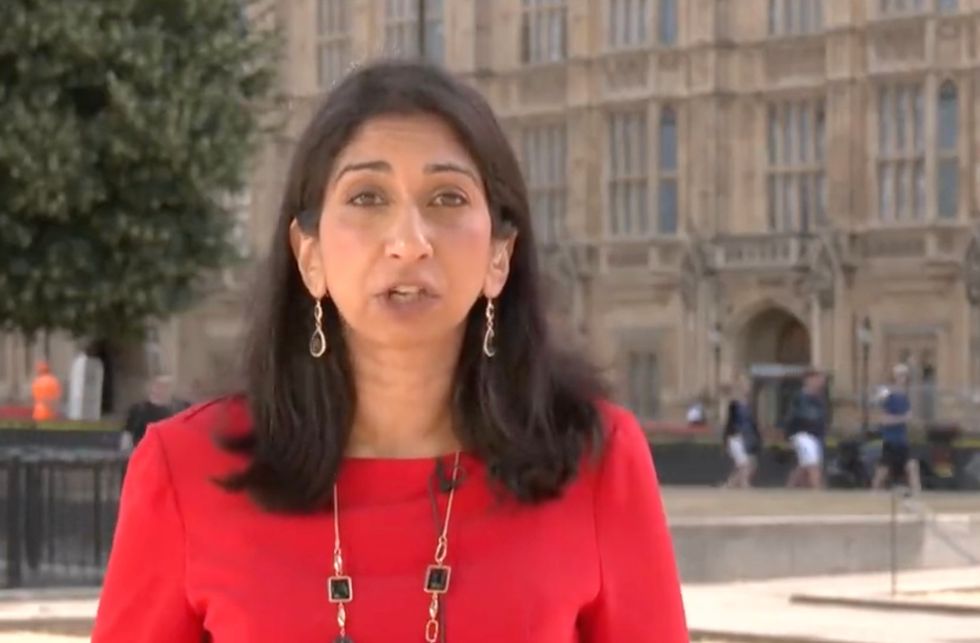 Suella Braverman speaking to GB News about her 'war on woke'
GB News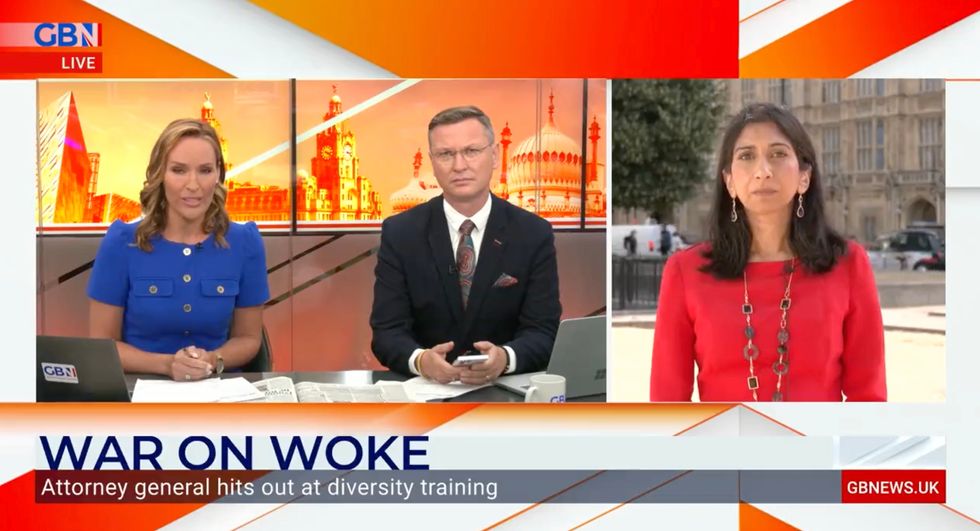 GB News' Isabel Webster and Stephen Dixon speaking to Suella Braverman
GB News