By Anna Fox
Published: 07/07/2022
-
15:16
Updated: 14/02/2023
-
10:52
The Prime Minister's resignation has sparked the revival of a crowdfund titled "Brexit Isn't Working: It's time to fight back from a band of outspoken remoaners".
European Movement UK said Boris Johnson's departure from Number 10, meant they could "reverse the calamity of Brexit".
---
Encouraging Remainers across the country to "regroup and be ready" following the news the group outlined how he was no longer suitable to led the country.
Promoting their crowdfunder, the European Movement UK tweeted: "Let's be clear, this is chaos, and we need to regroup and be ready.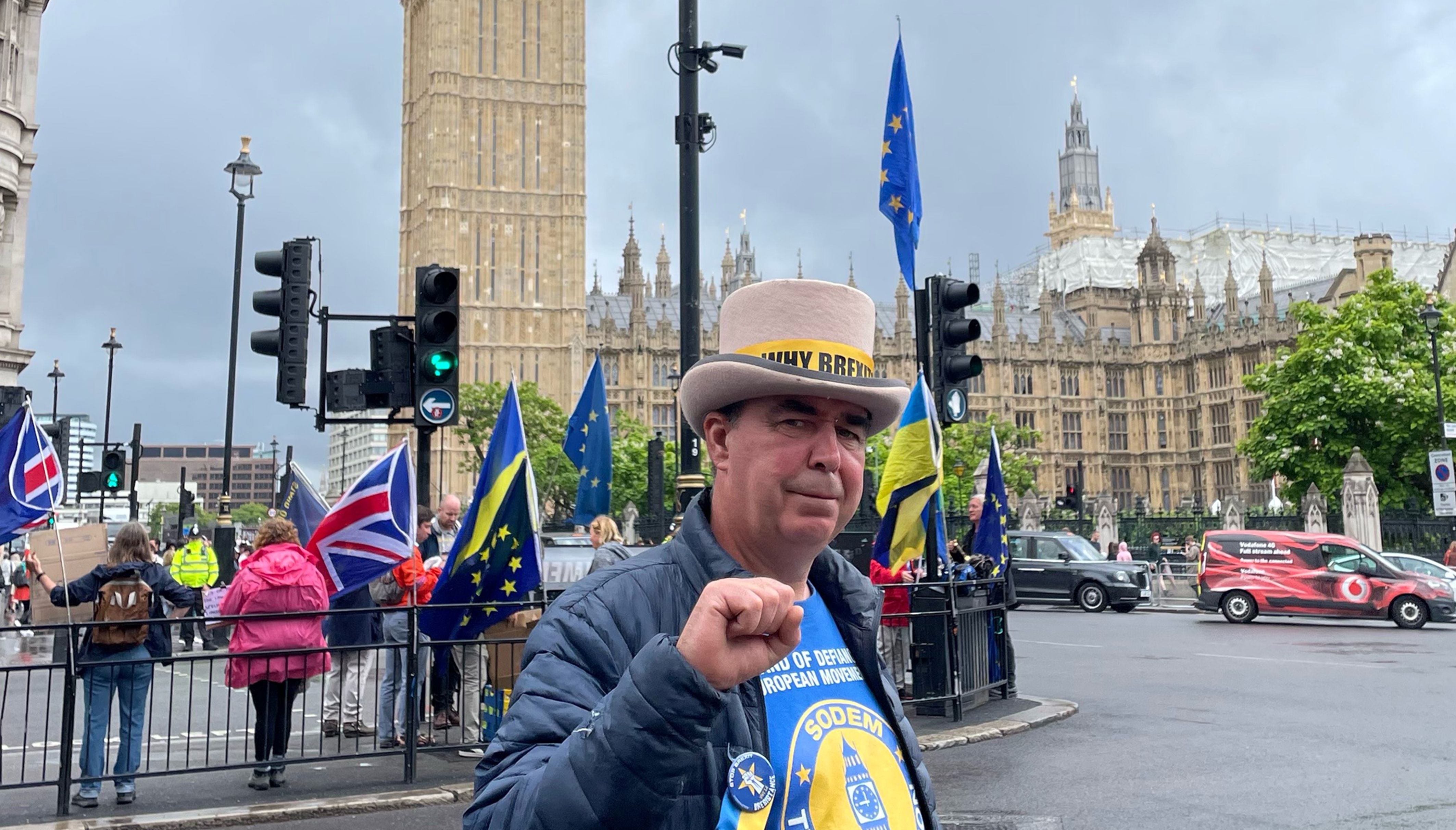 Anti-Brexit protester Steve Bray has been vocal in his opposition to the Prime Minister
Sophie Wingate
"Donate to the largest Pro-EU organisation in the UK, and be a part of the only campaign that is working reverse the calamity of Brexit."
Anna Bird, CEO of the European Movement released a statement urging parties to "leave Johnson's hard Brexit behind" stating its a "moral and political disaster".
Continuing her savage war on words against the Prime Minister, she condemned Mr Johnson for "cheap sloganeering , bullyboy negotiation strategies and unforgivable law-breaking".
Ms Bird said: "For seven years, the Brexit bullring has been used to spread lies, undermine democracy and strip away the integrity from public office.
"What followed was a tanking economy, collapsing businesses, families set to be worse off by nearly £1,000 a year and colossal damage to our reputation around the world.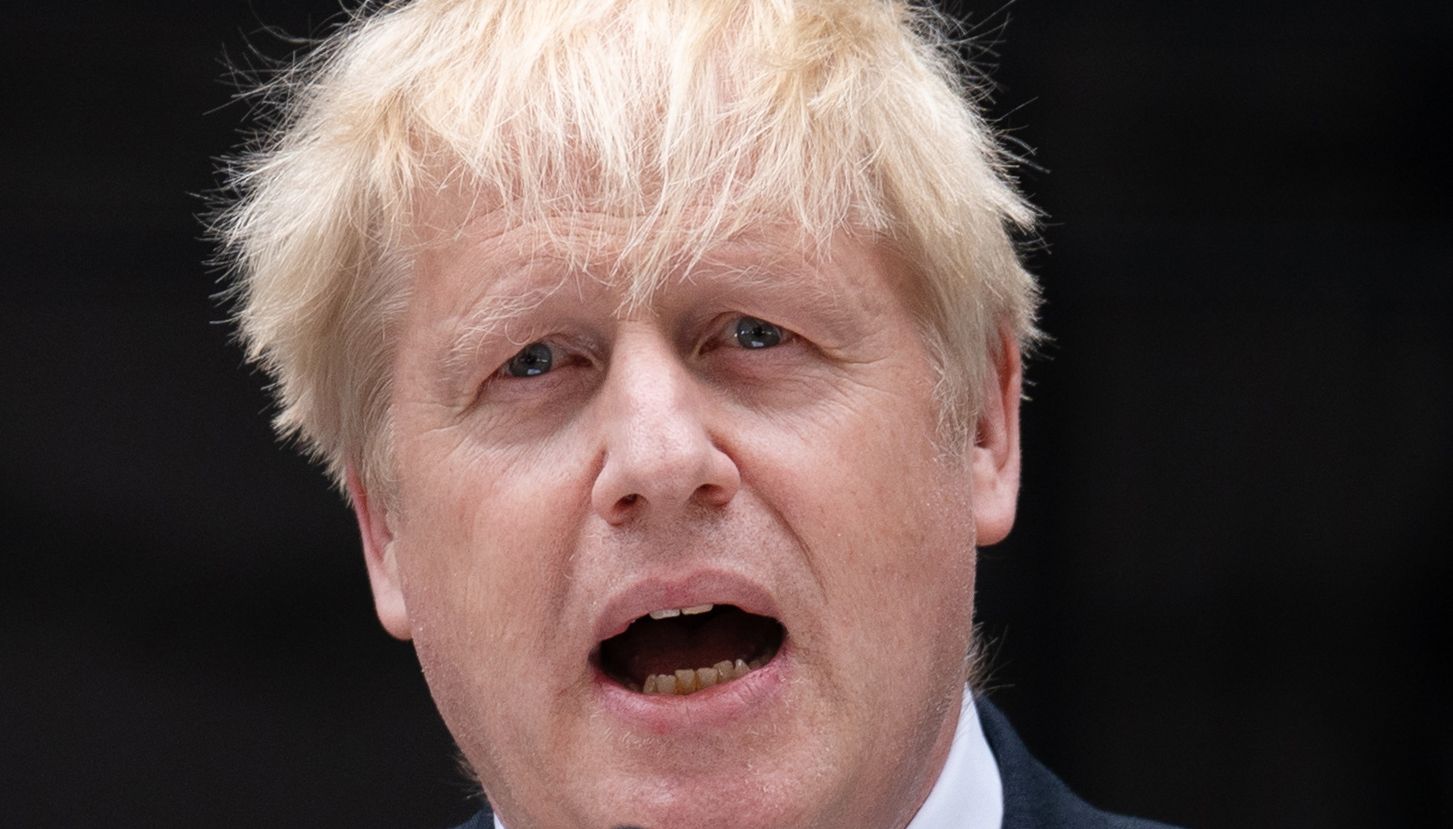 Prime Minister Boris Johnson resigned earlier today
Stefan Rousseau
"And for the last two years, our country has been caught up in the daily stresses of Boris Johnson's premiership: cheap sloganeering, bullyboy negotiation strategies and unforgivable law-breaking.
"Now it is time to look beyond all that. To contemplate where we'd like to be, what we want the world to think of us and what will become our story."
Since the start of campaign earlier this year, the crowdfunder has only raised £88,638 out of its £120,000 target, at time of writing.
In a statement on the webpage, the European Movement said: "This is the opportunity we have been waiting for.
"Boris Johnson and his Brexit government is going."
The Prime Minister assumed his position almost three years ago, promising to deliver Brexit in a swift and pragmatic manner.
During his premiership he has led the UK through the Covid-19 pandemic, which saw the country halt to a standstill in nationwide lockdowns imposed by his government.
He is the third Conservative Prime Minister to succumb to pressure from Tory infighting in the space of six years.
HIs resignation announcement follows a string of resignations which plagued the Government over recent days.
Senior government ministers quit their positions following the handling of allegations of misconduct against MP Chris Pincher.
Only last month the Prime Minister faced a vote of no confidence against his premiership, where 41 percent of his own MPs withdrew their support against him.