Published: 09/11/2021
-
16:34
Thousands of migrants have tried to cross illegally from Belarus into Poland this year as a row between the European Union and Minsk ratchets up.
Belarus leader Alexander Lukashenko has been accused of engineering the crisis in retaliation to sanctions slapped on his country over accusations of rigging the presidential election last year.
---
Here's a look at the circumstances which have led to the crisis boiling over.
So why are the migrants in Belarus?
Large groups of people fleeing conflicts and poverty in the Middle East and elsewhere started flying to Minsk this spring. They then travel to the border with EU members Poland, Lithuania or Latvia by taxi, bus or cars provided by human smugglers and try to cross.

If successful, they request asylum in Poland or contact family members or smugglers who can drive them to western Europe, the final destination for the majority.
Most migrants use travel agencies across the Middle East which partner with Belarusian companies to book tourism packages that usually include visa, flight and accommodation.
Agencies secure visas at Belarusian consulates from Ankara to Beirut which have been regulating the number of visas issued.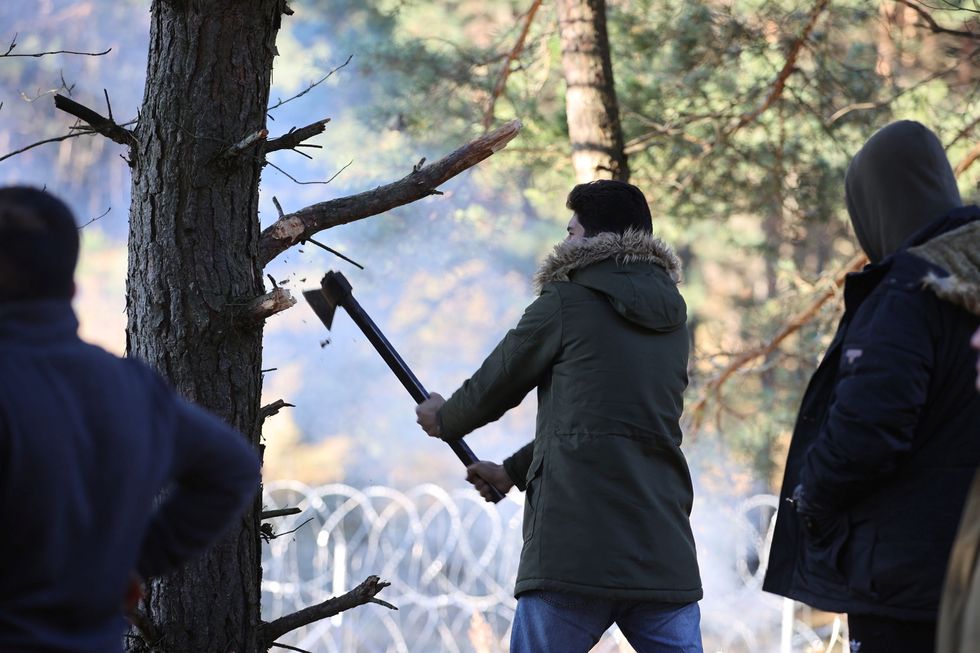 A migrant chop firewood near the Belarusian-Polish border in the Grodno region, Belarus..
BelTA
As more migrants learn about the Minsk route through smugglers, social media and online advertisements, Poland's Border Guard services have reported rising numbers of attempts to cross the border.
The price of the whole journey varies and can reach up to about $14,000. In October, Minsk restricted the number of travel agencies in Belarus allowed to deliver tourism invitations, and smugglers as well as agencies have reported a rise in prices.
What is Lukashenko's strategy?
Warsaw and Brussels say Lukashenko is deliberately pushing migrants into the EU in retaliation for sanctions against him and other top Belarusian officials, even helping them by providing tools for cutting through the border fences.
Polish authorities have made available documents, including official invitations, visa applications and hotel bookings, which they say show the role played by Belarusian travel agencies in inviting migrants to Minsk.
Lukashenko's government, which is backed by Russia, has denied manufacturing the crisis and blames Europe and the United States for the plight of people stranded at the border.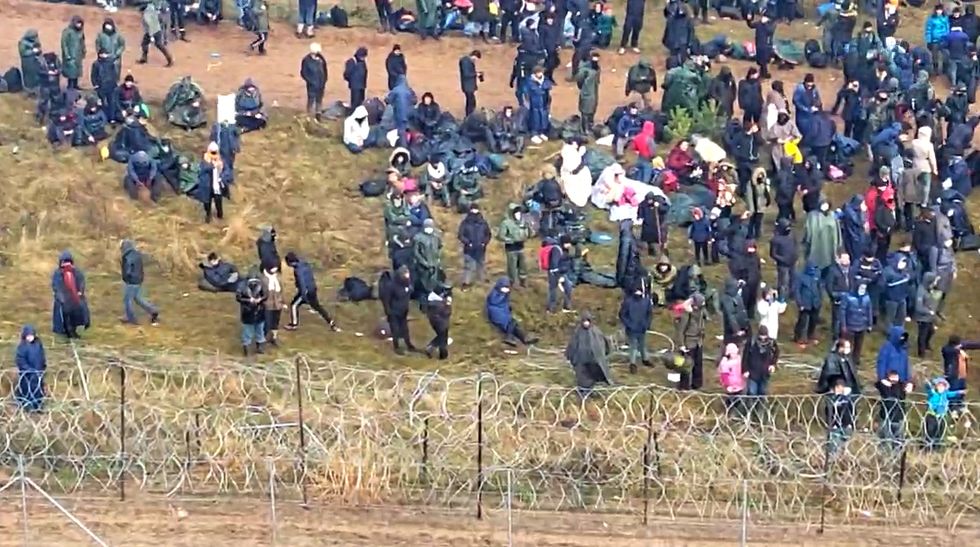 Hundreds of migrants try to cross from the Belarus side of the border with Poland near Kuznica Bialostocka, Poland, in this video-grab released by the Polish Defence Ministry, November 8, 2021.
HANDOUT
How are Poland the EU responding?
Poland has said it would build a wall along the stretches of the border targeted by migrants and has already erected a barbed wire fence along the most vulnerable parts.
In September, Warsaw also declared a state of emergency in a 3 km (1.8 mile) strip along the border. In early November, the Interior Ministry said it had drafted more police, border guards and volunteer militia personnel into the area.
The European Commission has called on other EU governments to approve tougher sanctions against Belarus for trafficking migrants and to blacklist airlines that fly them to Belarus from the Middle East and other hotspots.
The Commission has offered to help Poland with reinforcements from the EU border guard services, Frontex, as well as to help with background checks of asylum seekers and migrants. Warsaw has said so far that it is capable of handling the situation on its own.
Timeline of events leading to the crisis
August 2020 - Protests erupt in Belarus after Lukashenko, in power since 1994, claims a landslide win in an election that foreign observers say was neither free nor fair.
May 23, 2021 - Belarusian authorities scramble a fighter jet and flag what turned out to be a false bomb alert to force a Ryanair plane to land, detaining an opposition-minded journalist who was on board. The move draws condemnation from Europe and the United States.
May 26, 2021 - Lukashenko says his country will no longer prevent migrants from crossing its borders into EU member states Poland, Lithuania and Latvia.
June 24, 2021 - The EU imposes wide-ranging economic sanctions on Belarus for the first time, targeting its main export industries and access to finance.
July 9, 2021 - Lithuania begins building a 320-mile razor wire barrier on its border with Belarus, after accusing Belarusian authorities of flying in migrants to send illegally into the EU.
July 19, 2021 - EU border agency Frontex announces the deployment of 60 border guards with helicopters and vehicles to Lithuania's frontier with Belarus following a surge in illegal crossings.
August 9, 2021 - Poland reports a record number of migrants crossing the border from Belarus.
August 10, 2021 - Latvia declares a state of emergency along its border and starts pushing migrants back into Belarus. ,
August 10, 2021 - Lithuania decides to erect a high metal fence to deter illegal crossings.
August 23, 2021 - Poland says it will build a high solid fence along its border with Belarus.
September 2, 2021 - Poland declares a state of emergency in two regions bordering Belarus.
September 8, 2021 - Belarus says it may freeze an accord with the EU on taking back migrants who have entered the bloc via its territory, citing "unfriendly actions" by Brussels.
September 20, 2021 - Three people die after crossing into Poland from Belarus, and a fourth one is found dead on the Belarusian side of the border.
October 8, 2021 - Poland accuses Belarusian services of firing shots, probably blanks, towards its troops and summons Minsk's envoy in Warsaw.
October 14, 2021 - Poland passes legislation allowing migrant pushbacks at the border.
November 3, 2021 - Poland says unidentified uniformed individuals armed with long guns had crossed into Polish territory from Belarus.
November 8, 2021 - Polish authorities accuse Belarus of preparing a major provocation, with reports of hundreds of migrants walking towards the Polish border.
November 9, 2021 - Russian Foreign Minister Sergei Lavrov suggests the EU consider offering financial assistance to Belarus to help stop migrants crossing the border, along the lines of a similar deal the bloc negotiated with Turkey.