Published: 05/04/2022
-
17:24
Nigel Farage has called on Twitter to reinstate Donald Trump's Twitter account after the announcement that Tesla founder Elon Musk is now the company's largest stakeholder.
Mr Musk bought a 9.2 percent stake in the company, forcing Twitter shares to soar by 25 percent.
---
He made the purchase after slamming the platform for not adhering to the principles of free speech in a series of Tweets to his 80 million followers.
Responding to the news, Mr Farage said on Twitter: "Musk joining the Twitter board is the first step in the right direction. Bring back Trump!"
Republicans have also been calling for Mr Trump to be reinstated.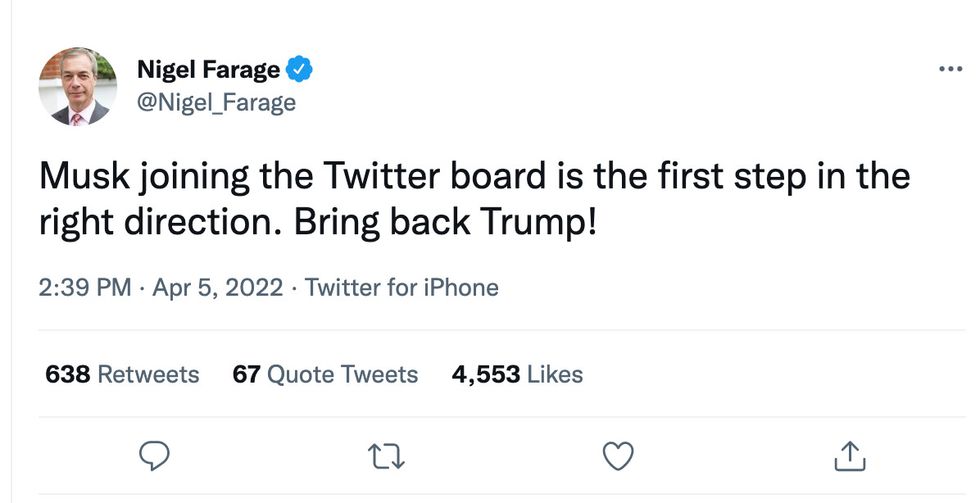 Nigel Farage's comments posted on his social media
Twitter
Colorado Republican Representative Lauren Boebert tweeted: "Now that @ElonMusk is Twitter's largest shareholder, it's time to lift the political censorship… Oh and bring back Trump!"
Assistant Secretary for Public Affairs for the US Department of the Treasury during the Trump administration, Monica Crowley said: "Now that @elonmusk is Twitter's largest shareholder, he should demand the end of political censorship, company-wide reform, and the reinstatement of President Trump."
Mr Trump was kicked off the platform after the storming of the US Capitol on January 6 by supporters of former president.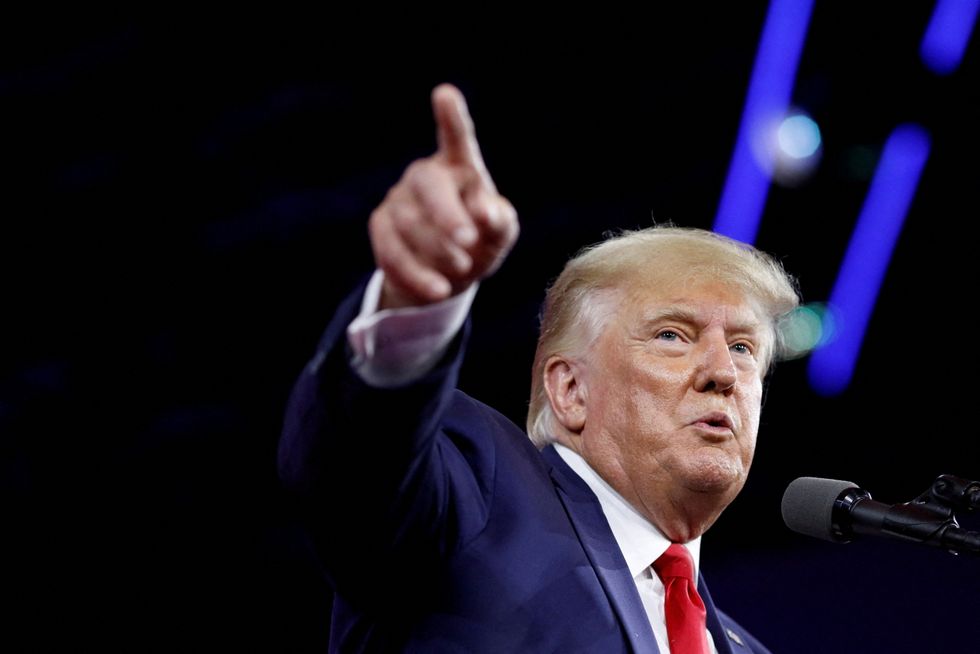 Former US President Donald Trump
MARCO BELLO
The storming of the US Capitol on January 6 by supporters of former president Donald Trump – who had appeared to incite them along the way – was the final straw for the social media platforms.
His social media posts were said to encourage the protestors to raid the building and inctie violence.
After months of labelling Trump posts as misleading or hiding them from view, Facebook, Twitter and others banned the former president for posts they deemed to be inciting violence.
A debate around the power of social media quickly sparked into life – critics raised concerns that this amounted to censorship and that cutting off a then sitting world leader from such large forums was setting a dangerous precedent, while others argued that Mr Trump's unfiltered and often misleading and blatantly untrue and harmful posts could not be ignored, regardless of the office he held.
Almost a year later and the bans remain in place, and Mr Trump is still looking for a new way to speak to his supporters broadly online.