Published: 16/03/2022
-
10:10
Nazanin Zaghari-Ratcliffe and fellow detainee Anousheh Ashoori are on their way to the airport as they're allowed to leave Iran, her lawyer Hojjat Kermani and Boris Johnson have confirmed.
This morning, Mr Kermani announced the breakthrough: "Both of them are on their way to the airport in Tehran to leave Iran."
---
Boris Johnson confirmed Mrs Zaghari-Ratcliffe and Mr Ashoori's release on Twitter.
The Prime Minister said: "I am very pleased to confirm that the unfair detention of Nazanin Zaghari-Ratcliffe and Anoosheh Ashoori in Iran has ended today, and they will now return to the UK.
"The UK has worked intensively to secure their release and I am delighted they will be reunited with their families and loved ones."
Mrs Zaghari-Ratcliffe, a British-Iranian national, has been detained in Iran for six years after her arrest in Tehran airport in April 2016 while on a trip to visit her family.
She was accused of plotting to overthrow the Iranian government.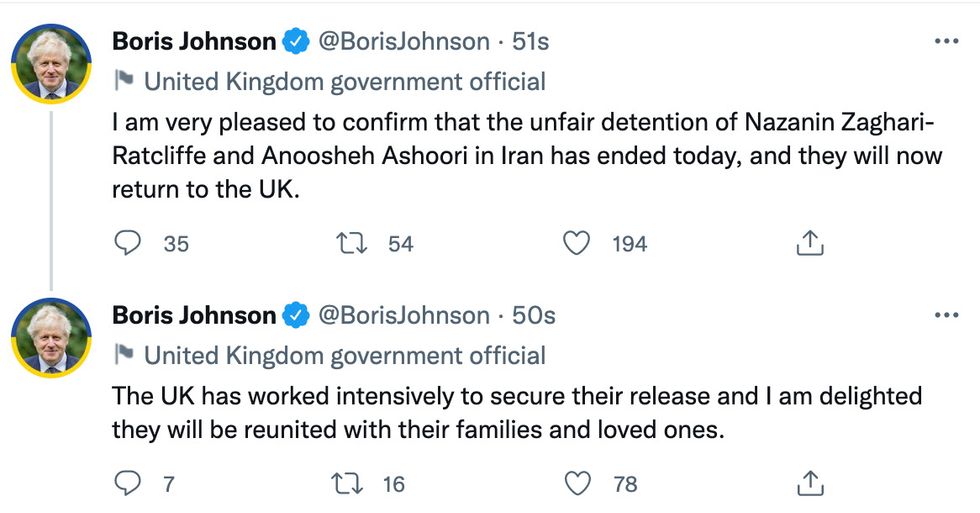 Boris Johnson announced Nazanin Zaghari-Ratcliffe release on social media
Twitter
Her husband, Richard Ratcliffe, and her seven-year-old daughter, Gabriella, have been campaigning for her release ever since.
In one protest in November 2021, Mr Ratcliffe camped outside the Foreign Office in London on a three-week hunger strike.
Mr Ratcliffe's lawyer, Penny Madden has said "hopes remain very high...Until she comes home on that flight nobody will be able to relax."
Speaking to Sky News she continued: "Still very very optimistic, we don't know what the delay is - we're very scared - but remain very optimistic.
"He is trying to control a very excited seven-year-old excited to see her mum come home."
Yesterday, it was announced that Mrs Zaghari-Ratcliffe was handed back her British passport in what was seen as a promising step towards her release.
Her MP Tulip Siddiq told GB News this morning, that that her release was "looking more hopeful than it has done in the last six years".
She explained that Mrs Zaghari-Ratcliffe was called over the weekend by the Iranian Ministry of Intelligence to come in for questioning.
The Labour MP for Hampstead and Kilburn said: "When she went in, there was a long line of questioning and scare tactics as she described it.
"And by the end of it, they handed her British passport back to her which is astonishing! Bare in mind she hasn't seen her passport since the 3rd April 2016."
Earlier today, Boris Johnson gave an update on talks with Iran, and said negotiations are "going right up to the wire".
The Prime Minister said that while talks on releasing Mrs Zaghari-Ratcliffe were "moving forward," negotiations continued "to be under way".
The 43-year-old from West Hampstead in London, was briefly released in 2021 due to the Covid-19 pandemic, but was then further sentenced to another year's confinement last April after being accused of "spreading propaganda".
In total, Mrs Zaghari-Ratcliffe spent four years in Tehran's Evin Prison and one year on house-arrest.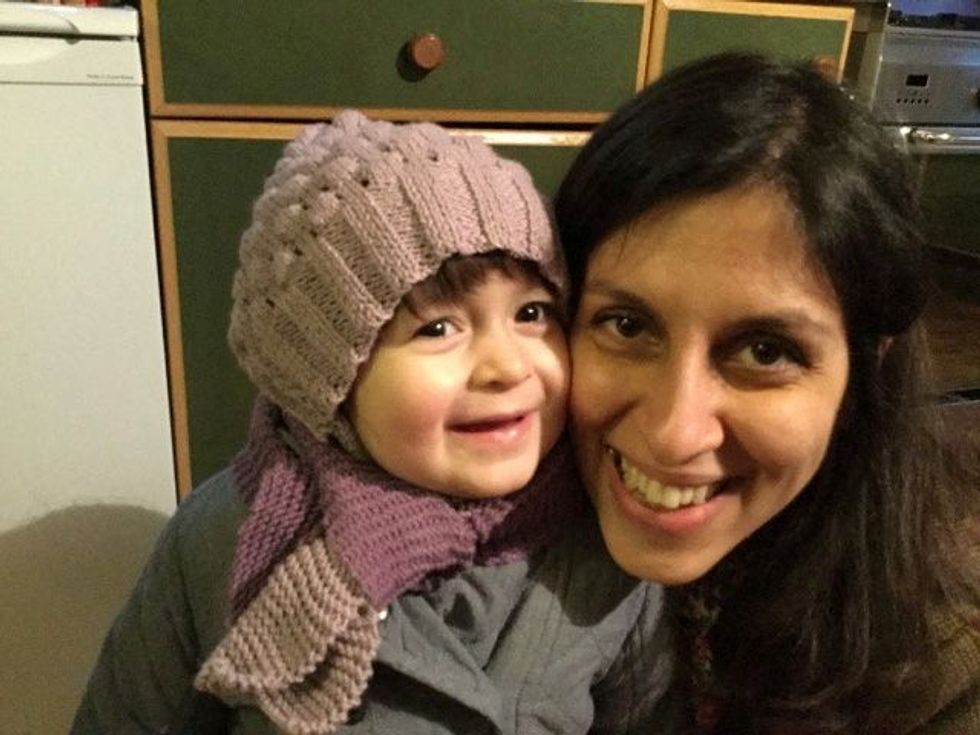 Nazanin Zaghari-Ratcliffe and her daughter Gabriella
KARL BRANDT/FREE NAZANIN CAMPAIGN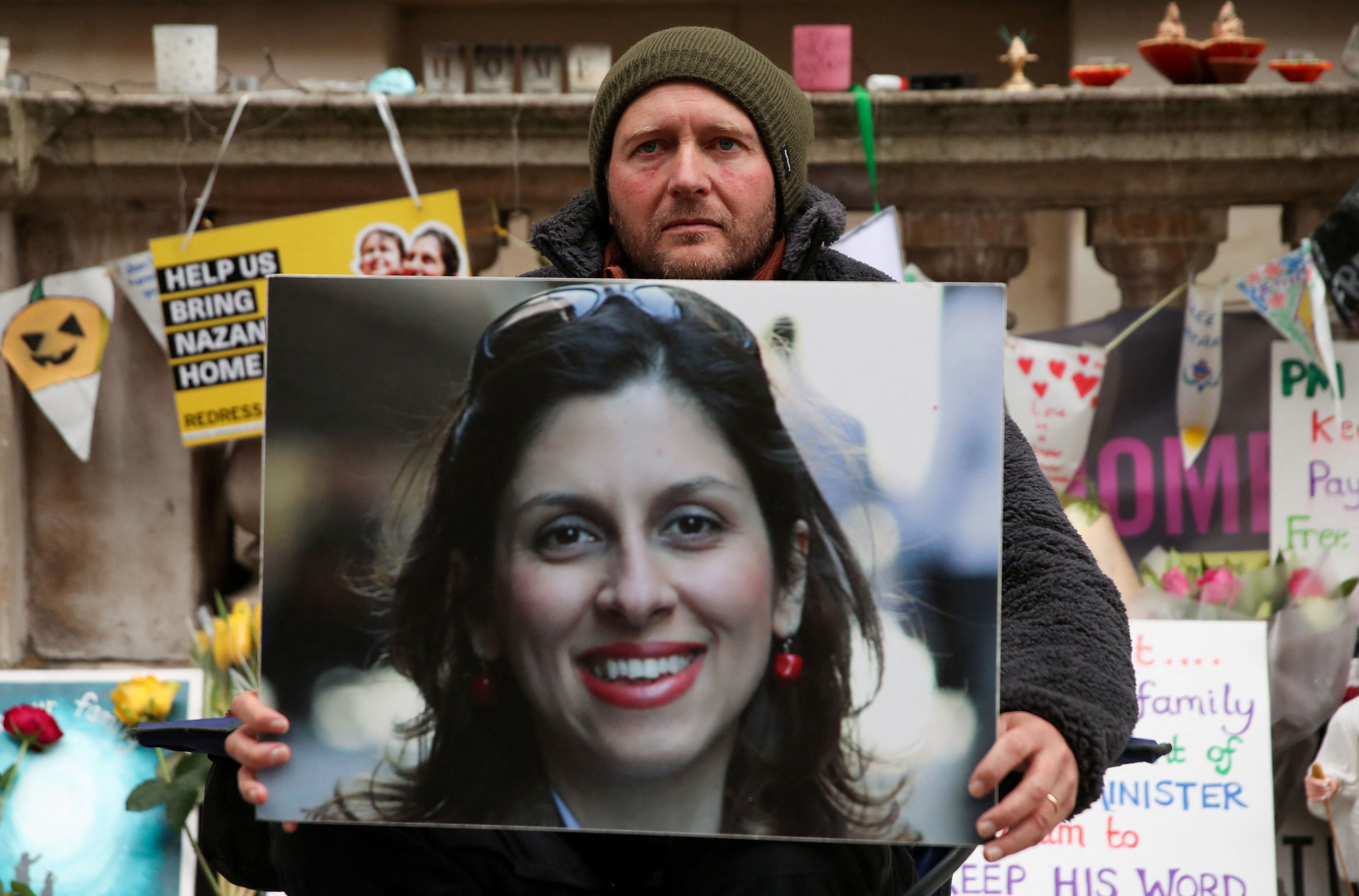 Richard Ratcliffe, husband of British-Iranian aid worker Nazanin Zaghari-Ratcliffe
PETER CZIBORRA