By Jack Walters
Published: 24/07/2023
-
08:58
Updated: 24/07/2023
-
09:01
Just Stop Oil's vegan banquet was ruined after pranksters set off rape alarms hidden in helium balloons.
Eco-activists arranged to hold a community meal yesterday at the Heritage and Arts Centre in Bow, East London.
---
However, YouTube prankers Josh Pieters and Archie Manners crashed the event and shared just how they spoiled the dinner party to their 1.4million subscribers.
Footage from the event showed activists from the counter-group 'Just Stop P*****g Everyone Off' (JSPEO) floating several helium balloons towards the ceiling while setting off deafening personal safety sirens.
An image of a set of balloons containing sirens
Twitter/@joshua_pieters
Pieters, 29, said on Twitter: "We've spent the last few days undercover with Just Stop Oil.
"Today, they held a party to 'celebrate' their achievements, and we were there, giving them a taste of their own medicine."
Manners, 30, added: "Climate change is the greatest crisis facing our generation - but if we're going to solve it we need to work together.
"JSO's tactics over the last 18 months haven't worked; indeed people across the country are put off this vital cause as a result of their protesting.
LATEST DEVELOPMENTS: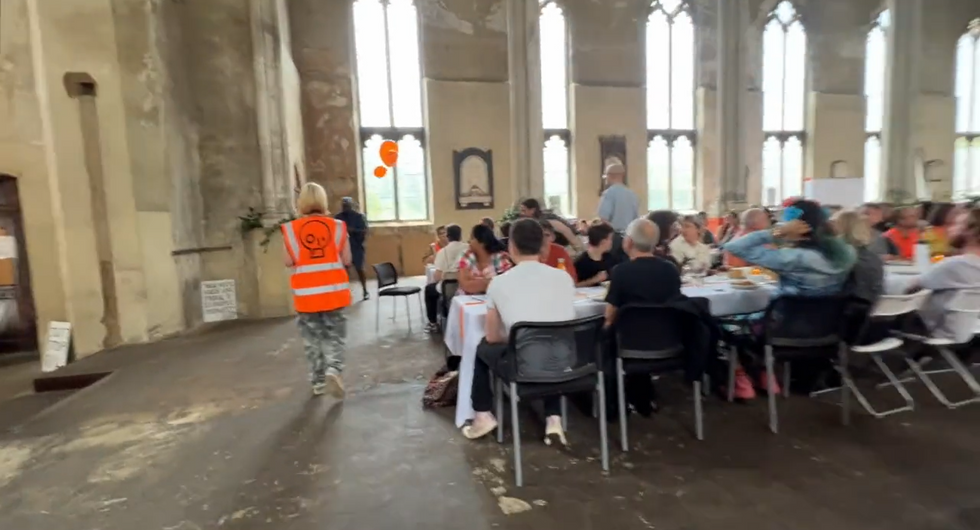 Eco-activists arranged to hold a community meal yesterday at the Heritage and Arts Centre in Bow, East London.
Twitter/@joshua_pieters
"The people at JSO are well-intended; but they're going about it the wrong way.
"Stopping mothers getting to hospital, or ruining people's day out at the snooker isn't doing anything to tackle climate change."
Just Stop Oil responded to the events yesterday by claiming the interruption was a metaphor for climate change.
They said: "We invited them to eat with us, but the alarms they let off at our banquet instead were the perfect metaphor for the urgency of the climate crisis."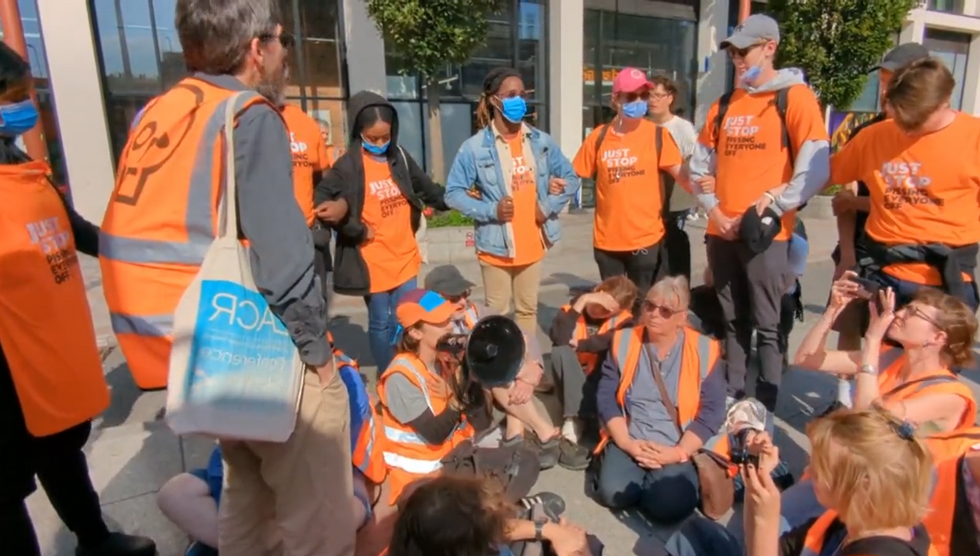 A Just Stop Oil activist used a megaphone to communicate with counter-protestersJust Stop Oil/Twitter
The pair were also behind a group of counter-protesters 'kettling' campaigners in Elephant & Castle last week.
Pieters and Manners led JSPEO campaigners, who wore identical orange t-shirts, chanting while JSO protesters sat on the pavement.
However, it is not only the pranksters who have taken exception with the eco-zealots tactics.
Members of the public have been filmed shoving protesters and England wicketkeeper Jonny Bairstow dragged one activist off Lord's hallowed turf.
A rowdy stag-do also appeared to give JSO a taste of its own medicine last month by chanting "we love you oil, we do" near Waterloo Station.