By Max Parry
Published: 11/01/2022
-
19:30
Updated: 14/02/2023
-
11:30
The German government must supply 'massive military support' to Ukraine against any future Russian aggression, to atone for the horrors of the Nazi regime on the Eastern Front during World War Two, Kiev has said.
According to Ukraine, Germany has halted Nato arms shipments ordered to buttress Ukrainian defences against a possible invasion of Putin's forces. This comes as approximately 100,000 troops and armed vehicles remain stationed on the UK.
---
The Ukrainian government had requested Nato send anti-aircraft missiles and weapons to stop drone strikes.
Angela Merkel prevented these orders from arriving in Ukrainian hands however, as the German government had a strict policy of not sending arms to areas of conflict. Olaf Scholz, the new German Chancellor, may not keep this policy up.
The comments relating to the Third Reich are designed to ramp up the pressure on the new Chancellor.
Five million Ukrainians died during the German occupation, including 1.5m Jews.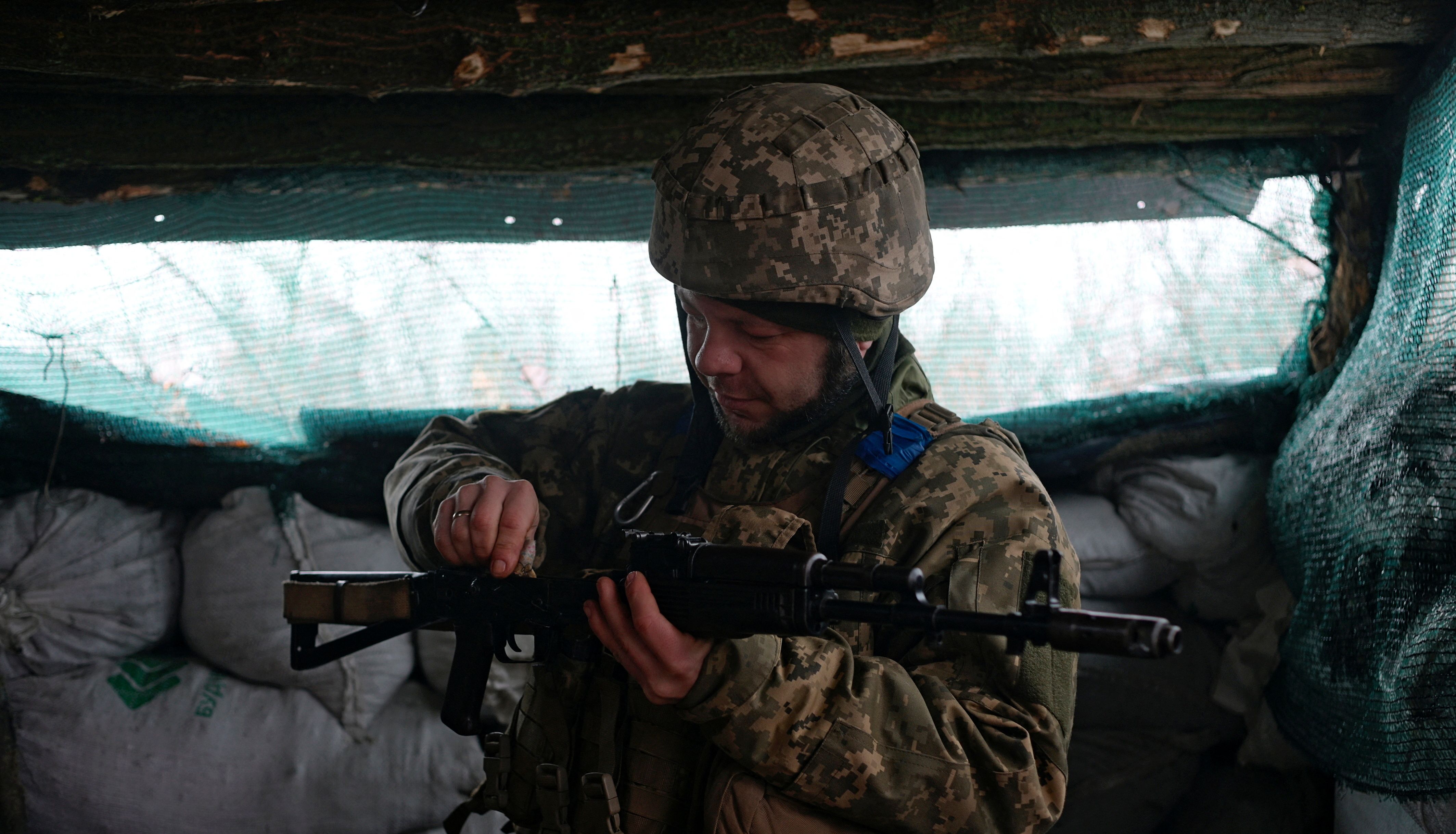 Service member of the Ukrainian armed forces Kolya, known by the nom de guerre Boroda (Beard), is seen at combat positions near the line of separation from Russian-backed rebels outside the town of Popasna in Luhansk Region.
MAKSIM LEVIN
Germany has "the same historical responsibility to Ukraine that it has to Israel" according to the Ukrainian ambassador to Berlin.
Andrij Melnyk, 46, accused Germany of failing to recognise the very real possibility of a Russian invasion and subsequent war.
In a series of newspaper interviews Melnyk also promoted the idea that Germany must help Ukraine gain entry to the EU and the Nato alliance.
The Kremlin's security talks with the US amid tensions over Ukraine have given little reason for optimism, adding that Russia would wait for the outcome of other meetings this week before deciding whether it is worth continuing negotiations.
The leader of the US delegation at Monday's talks briefed allies in Brussels about the session and stressed the security crisis was "caused by Russia" and its troop build-up near Ukraine.
At the Geneva talks, Moscow insisted on guarantees to halt Nato's eastward expansion and even roll back the military alliance's deployments in eastern Europe, while Washington firmly rejected the demands.