Published: 14/10/2022
-
14:50
Updated: 14/02/2023
-
10:35
An Extinction Rebellion protest held on Whitehall outside Downing Street cheered when news of Kwasi Kwarteng's sacking was announced.
Members of the group are holding colourful signs including one with the wording "employee of the month" above a Shell logo and a picture of Prime Minister Liz Truss.
---
Another sign read: "Polluters must pay, listen to the people" with "People and planet before profit" on a third.
It comes as Kwasi Kwarteng was sacked as Chancellor by Liz Truss following growing calls for a U-turn on his controversial mini-budget.
In a letter to Ms Truss posted on his Twitter, Mr Kwarteng wrote: "You have asked me to step aside as Chancellor. I have accepted.
"When you asked me to serve you as your Chancellor, I did so in full knowledge that the situation we faced was incredibly difficult, with global interest rates and energy prices.
"However, your vision of optimism, growth and change was right."
Kwasi Kwarteng's letter to Liz Truss Kwasi KwartengPrime Minister Liz Truss and Kwasi Kwarteng Stefan Rousseau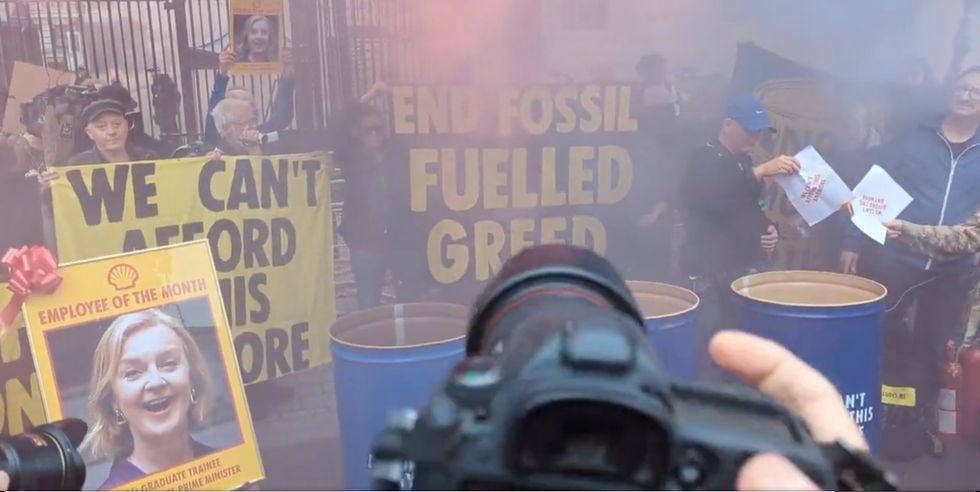 "As I have said many times in the past weeks, following the status quo was simply not an option. For too long this country has been dogged by low growth rates and high taxation — that must still change if this country is to succeed.
"The economic environment has changed rapidly since we set out the Growth Plan on 23 September. In response, together with the Bank of England and excellent officials at the Treasury we have responded to those events, and I commend my officials for their dedication.
"It is important now as we move forward to emphasise your government's commitment to fiscal discipline. The Medium-Term Fiscal Plan is crucial to this end, and I look forward to supporting you and my successor to achieve that from the backbenches.
"We have been colleagues and friends for many years. In that time, I have seen your dedication and determination. I believe your vision is the right one. It has been an honour to serve as your first Chancellor.
"Your success is this country's success and I wish you well."
Mr Kwarteng flew back to London on Friday for crisis talks after cutting short a visit to the International Monetary Fund's annual meeting in Washington.
It follows days of turmoil in the markets amid concerns about the impact of his £43 billion tax giveaway on the public finances.
Before he left the US, Mr Kwarteng answered "absolutely 100 percent" when asked if he will be in office in a month, adding: "I'm not going anywhere."
The markets, meanwhile, were calmer in early trading after reports that a major climbdown is being prepared helped settle nerves among investors.
Mr Kwarteng initially insisted he stood by his economic growth plan and would be setting out how he intends to get public finances back on track in a statement on October 31 as planned.
But with few MPs believing he can afford to wait that long, he later said "let's see" when asked if he could ditch his promise on corporation tax.
The commitment to scrap the planned increase in the levy on corporate profits from 19 percent to 25 percent is widely seen as likely to be the first element to go if the expected U-turn goes ahead.
After sacking Mr Kwarteng, Ms Truss is to hold a press conference later on Friday amid speculation of a major mini-budget U-turn.