By Anna Fox
Published: 07/07/2022
-
21:45
Updated: 07/07/2022
-
22:11
GB News presenter Dan Wootton hit back at a guest after she celebrated Boris Johnson's resignation by tooting a party horn in his face.
Broadcaster and author,Amy Nickell brandished a party horn and a box of tissues on Dan's show this evening, offering the presenter a tissue in an act of condolence.
---
She said to the presenter: "Dan you look so sad, would you like a tissue?"
Her act followed the resignation announcement from Mr Johnson, who stepped down from his role as leader of the Conservatives following criticism of his handling of allegations against Chris Pincher.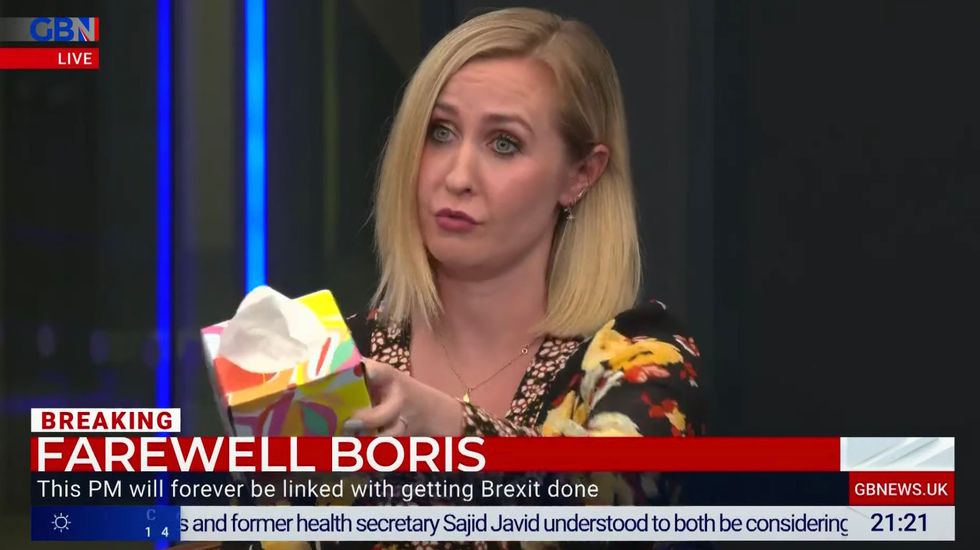 Broadcaster Amy Nickell offered Dan Wootton a tissue following the resignation of Boris Johnson
GB NEWS
Dan slapped down the actions of Ms Nickell exclaiming: "How immature" adding "You're celebrating the fact that in the middle of a cost of living crisis, in the middle of a health crisis this country is going to have no prime minister with a strong mandate for three months".
Continuing his onslaught, Dan said: "You think thats a good thing, what you want to do is bring down the government and you want to bring down Brexit too."
Ms Nickell denied claims she was revelling in Boris Johnsons' downfall, expressing her "genuine" and "heartfelt" sorrow for "true Conservatives" stating "I don't think Boris Johnson represents Conservative voters.
"It got to the point this week when I started to feel genuinely, sincerely hurt for true Conservatives, because i don't think Boris Johnson represents conservative voters and it don't appeal to me because I'm a Labour voter, but one hundred percent he's neither a conservative either."
The Prime Minister assumed his position almost three years ago, promising to deliver Brexit in a swift and pragmatic manner.
During his short time as Prime Minister he has led the UK through the Covid-19 pandemic, which saw the country halt to a standstill in nationwide lockdowns imposed by his government.
Mr Johnson is the third Conservative Prime Minister to succumb to pressure from Tory infighting in the space of six years.
His resignation announcement follows a string of resignations which plagued the Government over recent days.