Published: 03/08/2022
-
18:19
Updated: 14/02/2023
-
10:46
Emily Campbell delivered a record-breaking performance to add Commonwealth Games gold to her Olympic silver medal.
Campbell's cumulative total of 286kg from the snatch and clean-and-jerk disciplines set new Games and Commonwealth marks and also saw the 28-year-old eclipse by three kilograms the personal best she had previously set in Tokyo last summer.
---
Afterwards Campbell paid tribute to four-time Commonwealth champion Precious McKenzie, now 86 years old, who watched from the front row.
The pair have been the subjects of a play, 'Precious Emily', about their respective routes through the sport which has been staged at West Midlands theatres.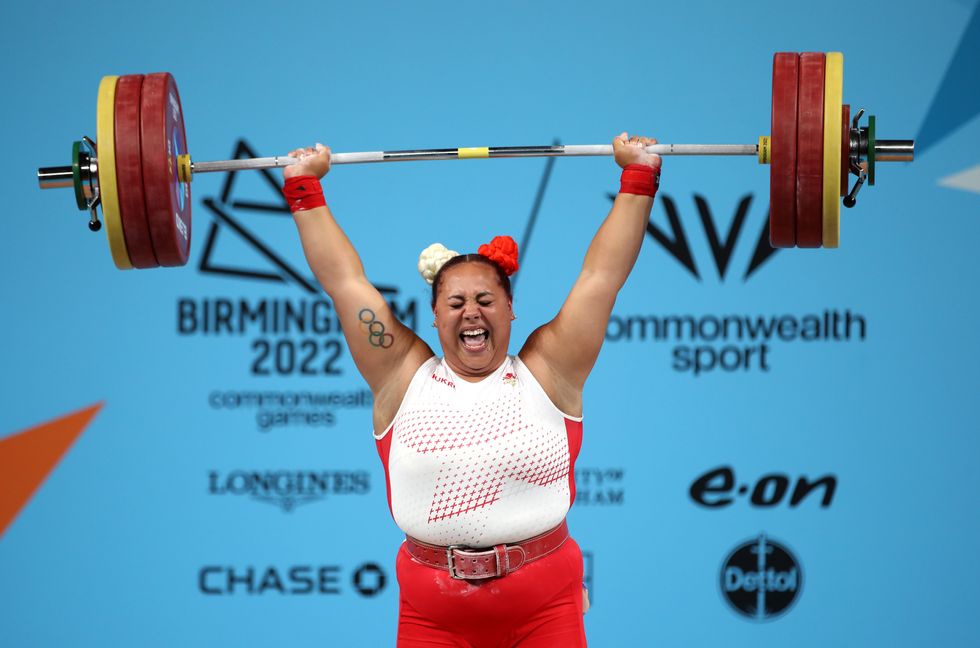 Emily Campbell
Isaac Parkin
Campbell said: "Precious is immense in his own right. His words to me before I came out today were, 'everybody is expecting you to win – you go out and win.' I couldn't have asked for any better advice.
"Precious has done immense things for weightlifting and he's still here at 86 years old giving back to the sport. When Precious McKenzie tells you to go out and win, you go out and win."
The 28-year-old Campbell, who had shared flag-bearing duties at last week's opening ceremony, wrapped up what she described as her "perfect Games" with six consecutive clean lifts that saw her comfortably beat silver medallist Feagaiga Stowers and Australian Charisma Amoe-Tarrant to guarantee gold with two lifts remaining.
It is a mark of Campbell's surging potential that she had placed third behind Stowers and Amoe-Tarrant on the Gold Coast four years ago, delivering a total of 242kg, prior to her unexpected performance in the Japanese capital that thrust her and her sport to international attention.
Campbell led by three kilograms after the opening snatch portion of the event, setting a new personal best and Games record in the process, before consecutive failures on 154kg by Stowers in the clean-and-jerk gifted the raucous culmination of the event to Campbell.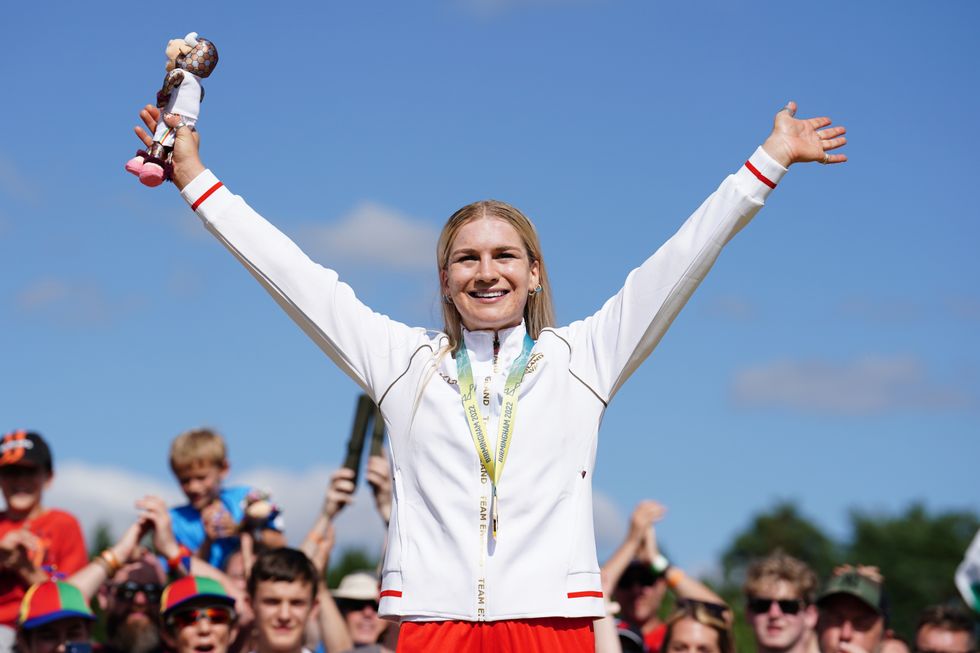 Evie Richards stormed to gold in the mountain bike race
David Davies
First she successfully raised the bar at 157kg before returning to eclipse her Tokyo total with a final lift of 162kg, celebrating in front of capacity crowd at the NEC.
While Evie Richards put a "terrible year" behind her to storm to Commonwealth gold in the mountain bike race.
There was no sign of the back injury or multiple illnesses that have plagued the world champion over the last six months as she rode clear on the first of the seven laps around Cannock Chase forest to improve on the silver she took in Gold Coast four years ago.
There was one scare with two laps to go when she slid on a corner and had to remount but that was the only moment in the 95-minute race where a Richards win looked in doubt.
Though Richards had insisted coming into the race she needed to "be realistic" about her chances given recent setbacks, she was ultimately a comfortable winner from Australia's Zoe Cuthbert and South Africa's Candice Lill, with Scotland's Isla Short fourth.
"I've had a terrible year," the 25-year-old said. "From being world champion last year this year has gone to shambles. I had a bad back in February and this is the first race with no pain, no tears. Just to finish a race, it sounds silly, but it's such a special moment.
"I've had everything from Covid to a stomach bug in Brazil so just to put a race together and to finish without a bad back, to be healthy, really means the world to me.
"I knew I wasn't the strongest but I just had to try. Sometimes I play it down to make it easier mentally, to take a bit of pressure off, but obviously I always want to win."
Elsewhere, England's Emma Reid also clinched gold with a narrow 1-0 win over Wales' Natalie Powell in the -78kg judo final.