By Tom Evans
Published: 03/08/2022
-
07:47
Updated: 03/08/2022
-
08:08
The actions by Beijing are seen as a direct response to US House Speaker Nancy Pelosi's visit.
In Taipei, she praised Taiwan for having "one of the freest societies in the world".
---
Taiwan's defence ministry said the island will firmly defend its security, counter any move that violates territorial sovereignty and enhance its alertness level with the principle of not asking for war.
The defence ministry added during a news conference on Wednesday that China continues to launch psychological warfare on Taiwan, and that citizens should not believe in rumours and report any fake news to the government.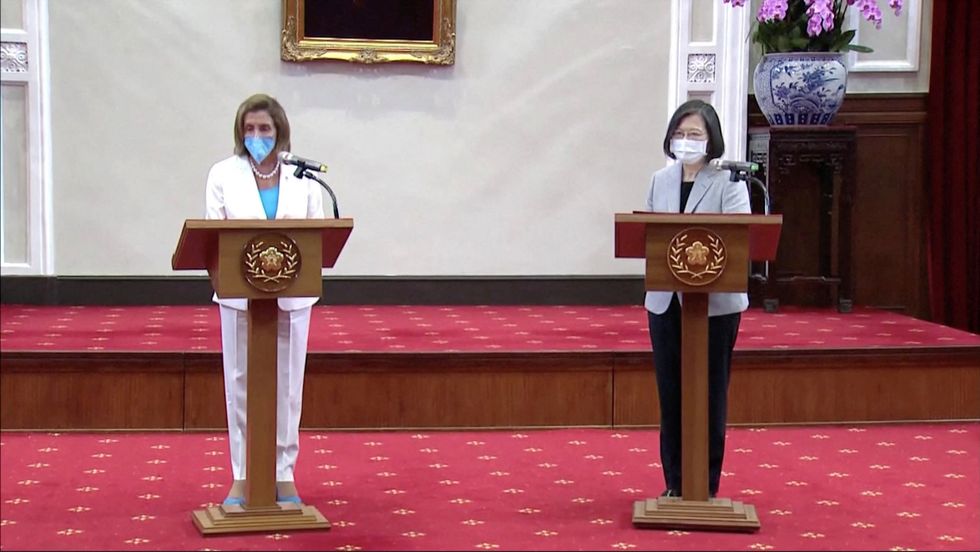 US Speaker of the House of Representatives Nancy Pelosi in Taiwan
TAIWAN PRESIDENTIAL OFFICE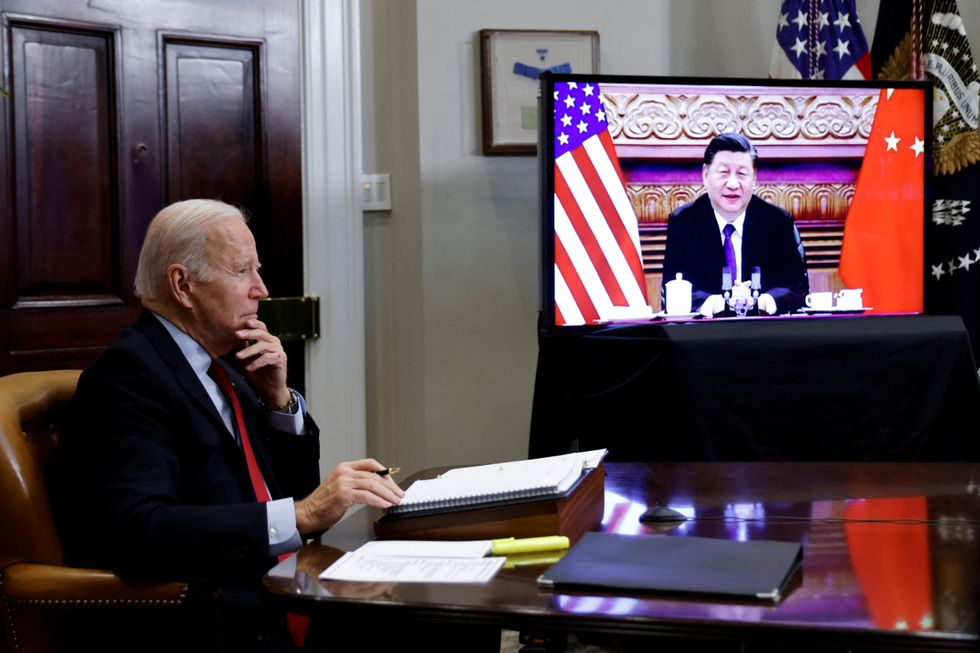 Relations between US President Joe Biden and China's Xi Jinping are tense over the visit
JONATHAN ERNST
Ms Pelosi arrived in Taipei on Tuesday, saying her visit shows Washington's unwavering commitment to the island's democracy.
Addressing Taiwan's parliament on Wednesday, Ms Pelosi praised President Tsai Ing-wen, who Beijing suspects of pushing for formal independence – a red line for China.
She said: "We thank you for your leadership. We want the world to recognise that."
Ms Pelosi went on to boast that new US legislation aimed at strengthening the American chip industry to compete with China "offers greater opportunity for US-Taiwan economic cooperation".
China claims self-ruled Taiwan as its own, and a foreign ministry spokesman said earlier this week that any visit by Ms Pelosi would be "a gross interference in China's internal affairs" and warned that "the Chinese People's Liberation Army will never sit idly by".
Ms Pelosi's actions show "America might just do something" in the face of Chinese aggression, according to GB News' Nigel Farage.
Speaking on Farage about Ms Pelosi's arrival in Taiwan on Tuesday evening, he said: "She's landed in Taiwan, now this of course is seen by the Chinese as a very provocative move.
"Interestingly the White House didn't seem to publicly back this trip and I know there are some British MPs like Tom Tugendhat who intend to visit Taiwan.
"America does have a pledge that it will defend Taiwan against aggression from China.
"But in response to this the Chinese authorities have now launched military exercises all around Taiwan including some live naval firing and some pretty strong statements, so China reacting very strongly to Nancy Pelosi being in Taiwan.
"Do we think it's a brave thing for Pelosi to do? Do we think it's a stupid thing for Pelosi to do?
"I have to say, I am not normally a fan of the Democrats but I think her going shows actually that, if the Chinese want to act, America might just do something, might just do something."