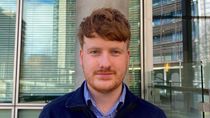 Published: 02/03/2023
-
14:59
Updated: 02/03/2023
-
19:52
Britons have been warned that ice and snow could grip the nation within days, with the Met Office issuing a cold weather alert for parts of the country.
Its long range weather forecast has cautioned that from March 6 the UK will see "winds from the north bringing cold conditions to most areas".
---
It continued: "This will most likely result in wintry showers across northern and eastern areas, these turning to more organised bands of snow at times.
"Under this regime, many other areas are likely to remain dry with some sunshine, the best of this across inland areas and in the south and west of the UK.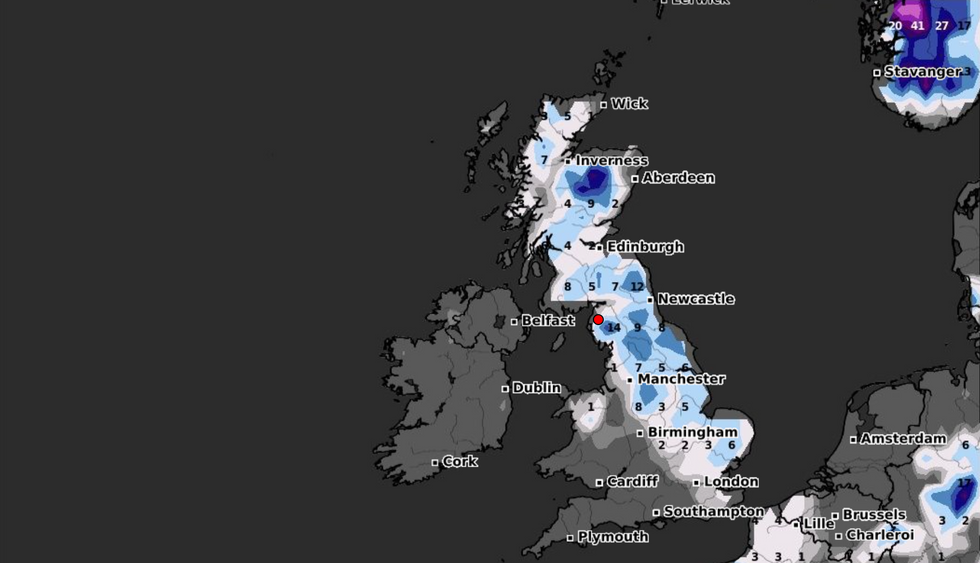 The Met Office issued a level two cold weather alert.
WXCHARTS
"During the later part of the period confidence decreases significantly, however there is a risk of some milder and wetter weather pushing into the south from the Atlantic, meaning spells of rain will become more likely across the country.
"Temperatures overall will be below average but may gradually trend up through the period."
Elsewhere it issued a level two cold weather alert, explaining that severe cold weather could increase the health risks to vulnerable patients.
A level two alert is issued when there is a mean temperatures of 2C and or widespread ice and heavy snow is predicted.
It explained that it expects high pressure to become "displaced towards Greenland with a cold north to north-easterly airflow becoming established across the whole of the UK during next week".

Atlantic frontal systems could push into the south on Tuesday and Wednesday, this could bring "disruptive snow".
Weather maps from WXCHARTS also show a similar forecast, from Tuesday snow is expected to start falling in Scotland.
It will then travel down the north-east of England, arriving in Newcastle, Manchester, Birmingham, even reaching as far south as London.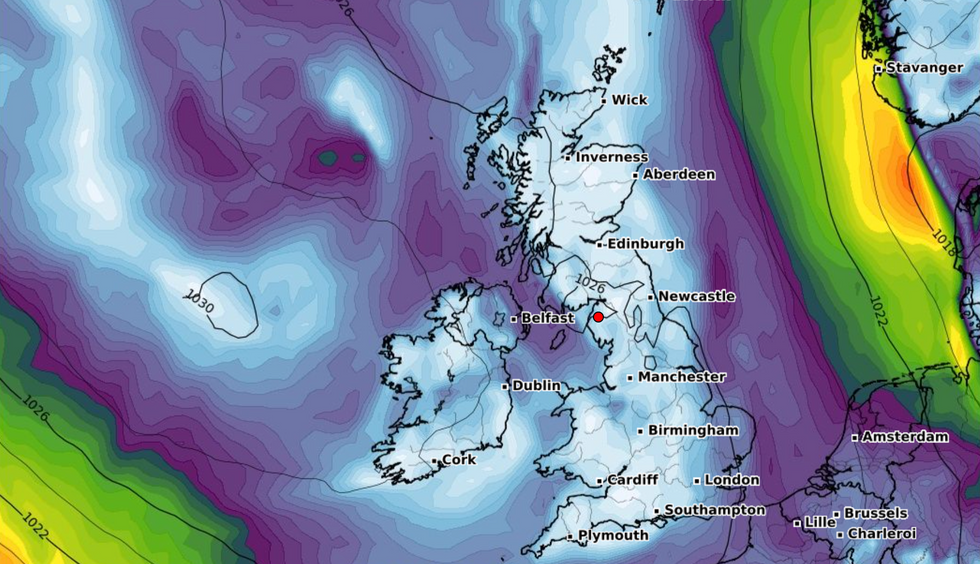 Snow is expected to start falling across the UK next week.
WXCHARTS
The Met Office advised Britons to stock up on food and medicines and avoid going outside where necessary.
It said: "Prolonged periods of cold weather can be dangerous, especially for older people, those with underlying health conditions, and young children."
There is a 60 per cent probability that the severe cold weather, icy conditions and heavy snow will hit the UK.
It is forecast to arrive between 0001 on March 6 Mar and midnight on March 8.