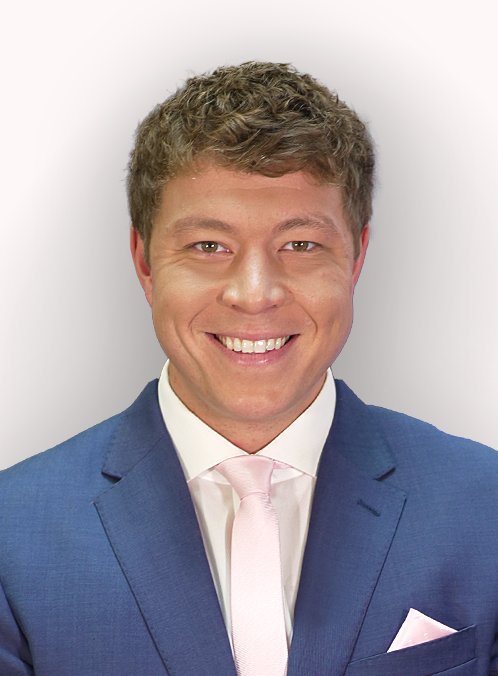 Published: 25/04/2022
-
10:22
Updated: 25/04/2022
-
11:47
Emmanuel Macron won by default.
He is a shadow of the man who proclaimed that he wanted to be France's Jupiter King, posing smugly for his official portrait, the man who really believed he could unite France and be carried around on the shoulders of his people as he ushered in a new era of French dominance.
---
In his victory speech in front of the Eiffel Tower he said: "Many of our compatriots voted for me not out of support for my ideas but to block those of the far right."
The fact is, Macron was rejected by 72% of voters in the first round and then in the second round, 28% of people abstained.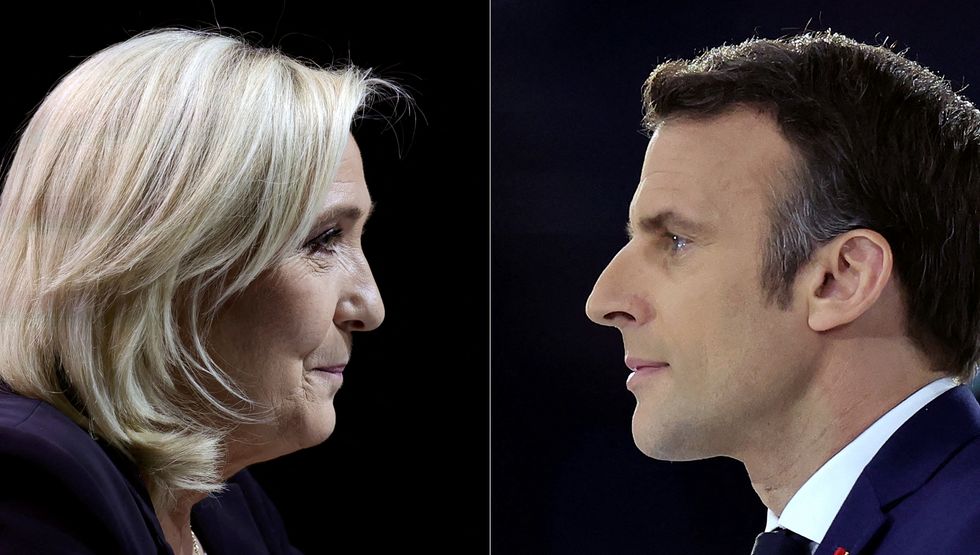 Emmanuel Macron won with 58.5% of Sunday's vote.
Reuters / SARAH MEYSSONNIER
Today's newspapers are littered with quotes from French citizens saying they held their nose or fought back tears as they voted for Macron, only doing so to keep the increasingly popular Marine Le Pen at bay.
But I can't help but feel that the tide is turning in France. A YouGov poll before the election showed that 56% of voters aged 18-24 supported the supposedly far-right candidate.
Le Pen obviously had a racist father and she is very hardline when it comes to immigration and, obviously, women wearing the headscarf.
But economically she's pretty left wing.
She had proposed expanding the welfare state for those deemed eligible and has offered tax breaks and interest-free loans to get on the housing ladder for people under 30.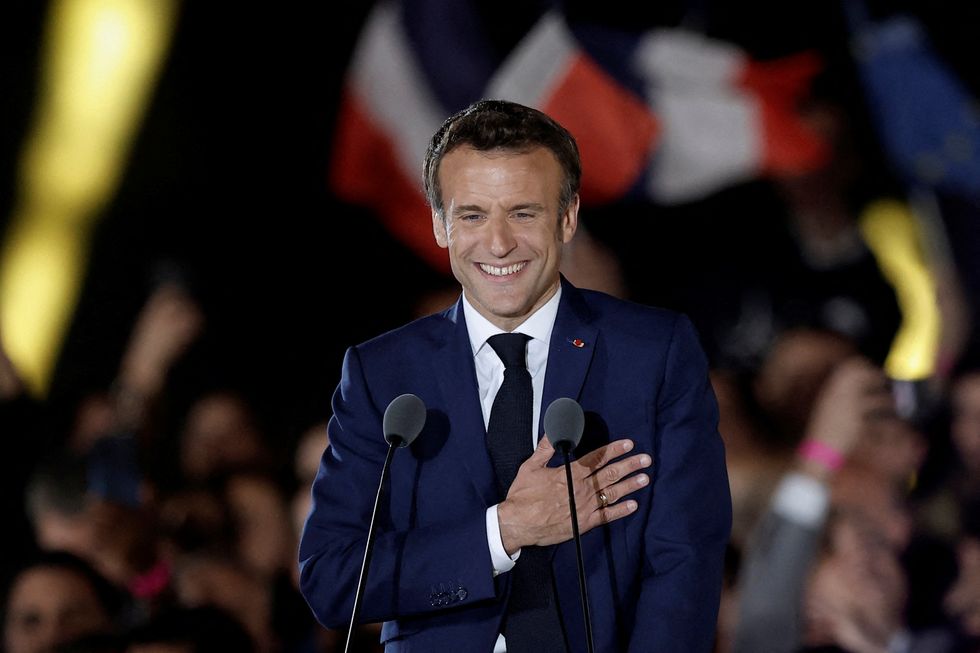 Patrick Christys sais Emmanuel Macron should not be 'jumping for joy.'
BENOIT TESSIER / Reuters
I think if France continues to have social issues caused by mass migration and radical Islam, it's only a matter of time before they elect someone who wants to tackle these issues head-on.
If I was Emmanuel Macron, I'm not sure I'd be jumping for joy today. Police shot two people dead as Macron was giving his victory speech after a car sped towards officers, there were huge protests and violence in the capital.
People can say what they like about Boris Johnson, but if he won a general election tomorrow, we wouldn't see scenes like that in this country.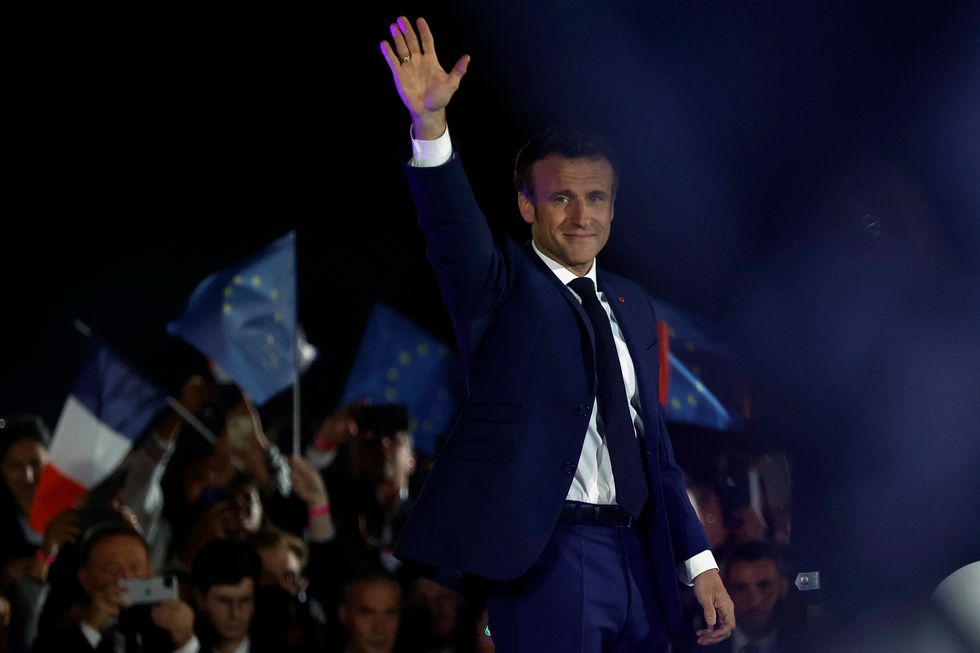 Emmanuel Macron waves on stage after winning re-election.
CHRISTIAN HARTMANN / Reuters
The left-wing media needs to make its mind up as well – if they keep dismissing people as far-right fringe politicians, as they did with Nigel Farage, then they're just exposing how out of touch with the public they are.
When the British public voted for Brexit, a lot of the backlash was because lefty media types and luvvies just refused to believe that so many people could back Farage and Co of their own free will. No – the vote must have been rigged by Russia, the people must have been lied to… actually, 52% of voters just wanted Brexit. And people struggled to get their heads around that.
Dismissing Marine Le Pen as a far-right nutter now is impossible. She got 41.2% of the vote. If Britain was demonised as a racist country because it voted for Brexit, then what does it say about France – a nation right at the heart of the EU project – when 41% of people who voted chose the, quotes un-quotes 'far-right?'
We'll have to see what Macron's re-election means for Britain, but I tell you what it means for the EU.
Macron is now essentially the leader of Europe. Germany doesn't have the same stature without Merkel and it's got itself into a right mess with Russian gas and oil.
Italy and Spain aren't at the races. Ursula Von Der Leyen is a total non-entity and the commission is, of course, unelected.
If France is the EU's leading country and the leader of France only won by default, I think it only goes to highlight, yet again, that we were right to leave that beleaguered bloc.