Published: 10/03/2022
-
20:49
Russian President Vladimir Putin said on Thursday that Russia would ultimately emerge stronger and more independent after overcoming the difficulties caused by what he called the West's illegitimate sanctions.
Putin said there had been no alternative to what Russia calls its special military operation in Ukraine and that Russia was not a country which could accept compromising its sovereignty for some sort of short-term economic gain.
---
"These sanctions would have been imposed in any case," Putin told a meeting of the Russian government.
"There are some questions, problems and difficulties but in the past we have overcome them and we will overcome them."
Ukraine's foreign minister earlier said talks between the top diplomats of Moscow and Kyiv produced no breakthrough on ending the war following Russia's invasion.
Ukrainian foreign minister Dmytro Kuleba said he attended the meeting on Thursday with Russian counterpart Sergei Lavrov in Turkey to discuss humanitarian corridors and a ceasefire.
Mr Kuleba said there are "other decision-makers" in Russia who need to be consulted, adding that he agreed with Mr Lavrov to continue to seek a solution to humanitarian issues caused by the war.
He said Moscow is not ready to offer a ceasefire, adding: "They seek Ukraine's surrender. This is not going to happen."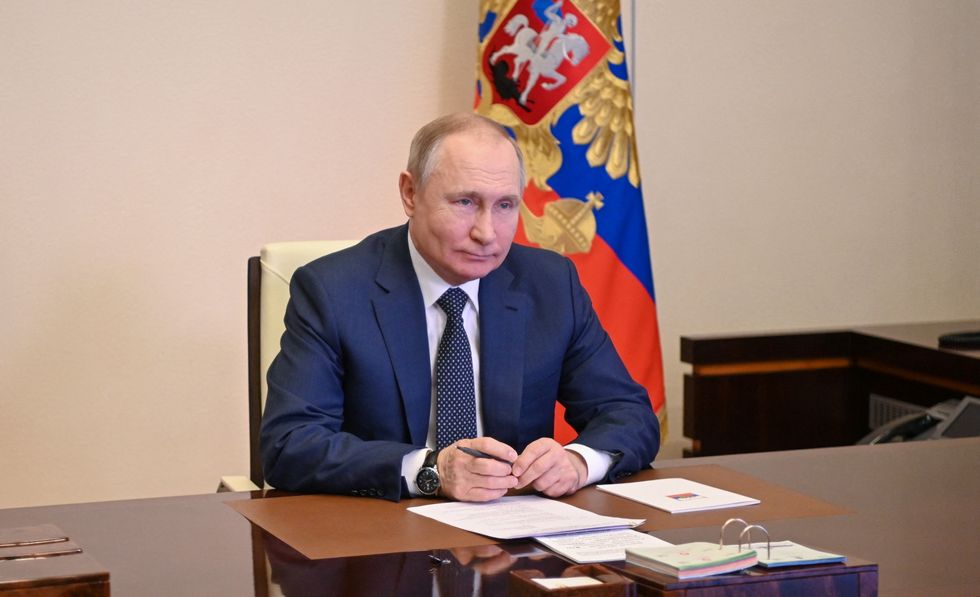 Russian President Vladimir Putin attends a flag-raising ceremony on the ferry Marshal Rokossovsky via a video link at his residence outside Moscow, Russia March 4, 2022. Sputnik/Alexey Nikolsky/Kremlin via REUTERS ATTENTION EDITORS - THIS IMAGE WAS PROVIDED BY A THIRD PARTY.
SPUTNIK
Mr Kuleba said "the last thing" he wanted was to kill hope for Ukrainians seeking safe passage out of cities besieged by Russian bombardments and attacks.
The talks happened after an air strike on a hospital in the port city of Mariupol killed three people, including a child, the city's council said, as Russian forces intensified their siege of Ukrainian cities.
The attack a day earlier in the besieged southern port city wounded 17 people, including women waiting to give birth, doctors, and children buried in the rubble. Bombs also fell on two hospitals in another city west of the capital.
The World Health Organisation (WHO) said it has confirmed 18 attacks on medical facilities since the Russian invasion began on February 24.