By Max Parry
Published: 01/12/2021
-
19:56
Updated: 01/12/2021
-
19:56
In a global exclusive interview with GB News, former US President Donald Trump attacked the Prime Minister over his support for wind energy.
The 45th President, who sat down with Nigel Farage in Mar-a-Lago, and said that 'Boris is wrong' if he is 'going heavy into wind' to support the UK's energy supply.
---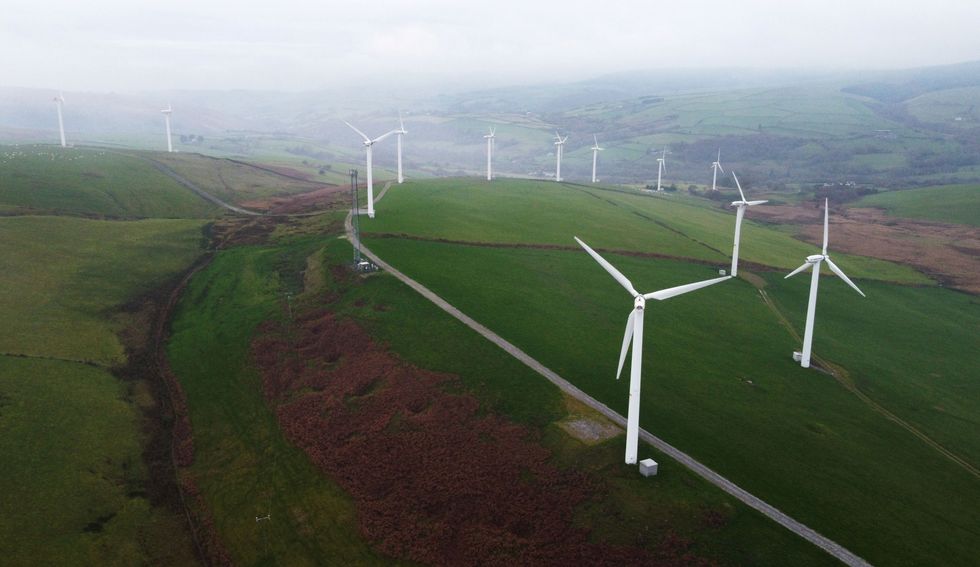 Wind turbines are seen at Mynydd Portref Wind Farm near Hendreforgan in South Wales.
MATTHEW CHILDS
Nigel Farage informed Mr Trump about the Prime Minister's comments that he wants the UK to become the 'Saudi Arabia of wind', to which Mr Trump replied: 'I think it's a shame.'
'I'm surprised that he would allow that to happen because you've got one of the most beautiful countries in the world and you're destroying it with all these wind turbines all over the place.
'In Aberdeen they built this ugly wind farm in the ocean. It's so disgusting to look at it - it's a shame.
Former President Donald Trump
Boris is wrong [to pursue wind energy]
The former President continued: 'I think it's a shame what's happened in Scotland, in [the] UK, all over the place. You take a look.
'I think Ireand's been better about it, if you want to know the truth.
Despite Mr Trump's assault on the Prime Minister's support for wind energy, the former President still spoke warmly of his relationship with Boris Johnson: 'I like him, I like him. I get along with him, I've always gotten along with him.
However, he told GB News he felt Mr Johnson was erring away from conservative values, noting: 'He's gone a little on the more liberal side.
The ex-President has not so openly expressed disapproval about the policy choices of Mr Johnson before. However, Mr Trump was reported to have slammed the phone down on the Prime Minister, whilst he still occupied the White House, over the UK's position on Chinese company Huawei.
In his first book after losing the presidency to Joe Biden, Mr Trump said that Boris Johnson would be remembered as 'the best Prime Minister since Winston Churchill.'
Mr Trump called Mr Johnson a 'one of a kind' as well as a 'fantastic leader' in a handwritten note beside a picture of the two leaders sharing a conversation.
Boris Johnson did however condemn Mr Trump casting doubt over the legitimacy of the 2020 Presidential Election as 'completely wrong.'
The Prime Minister described the former President's actions prior to the Capitol riots on January 6th as 'completely wrong.'