Damien McNulty, the head of National Association of Schoolmasters Union of Women Teachers has revealed just five per cent of pupils at one school agreed to to take a lateral flow test at the start of term and wear a mask.
"Sadly, we have had reports in the last 24 hours of at least six secondary schools in the north-west of England where children, in huge numbers, are refusing to take lateral flow tests or to wearmasks."
---
"We've got one school in Lancashire where only 67 children out of 1,300 are prepared to have a lateral flow test and wearmasks. This is a public health emergency." Mr McNulty told the BBC
This warning comes as a study which was used to justify the implementation of mandatory masks in schools has implied they have only a marginal benefit, according to documents form the Department of Education.
McNulty said as the Government's own study does not justify the mask policy starting this term.
Despite this study and clear evidence that not all schoolchildren want to wear masks, other scientists have said that the broader evidence on the use of masks in schools remained strong.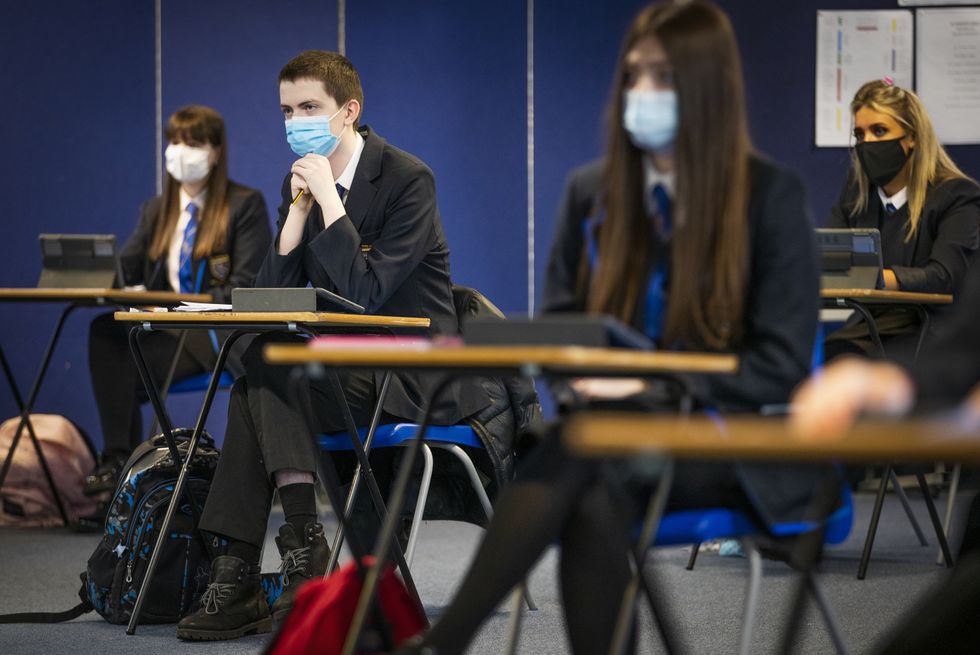 English Literature class at St Andrew's RC Secondary School in Glasgow
Jane Barlow
However, the documents show the government's own research failed to find they had a significant effect in lowering transmission.
The study compared 123 UK schools that had a mask mandate in place with almost 1,200 schools that did not during the Delta wave.
In both groups at the start of October the absence rate was 5.3 per cent. By the third week of October this had fallen to 3.6 per cent in those not using masks. In schools that did use masks, it was 3 per cent.
The sample size was too small, however, to be sure that the difference had not come about by chance.
Other studies have found stronger results. In the US, a study found that schools without mask mandates were 3.7 times more likely to have outbreaks.
When taken together with evidence such as this from around the world, the authors of the government report said that although "results were mixed", the weight of findings "support the conclusion that the use of face coverings in schools can contribute to reducing Covid-19 transmission".
Trisha Greenhalgh, from the University of Oxford, said that this was the right decision. "The totality of evidence on the efficacy of masks is extremely strong," she said, arguing that the US studies were much better designed.