Published: 19/07/2022
-
15:18
Updated: 19/07/2022
-
16:44
Mayor of London Sadiq Khan said London Fire Brigade (LFB) has declared a major incident "in response to a huge surge in fires across the capital today" saying that the service is under "immense pressure".
It comes as fire crews battle hundreds of wildfires across the country as temperatures topping 40C transformed fields and grassland into a "tinderbox".
---
One regional service said the number of open fires could have tripled this week, while the Met Office warned that most of England was at exceptional risk.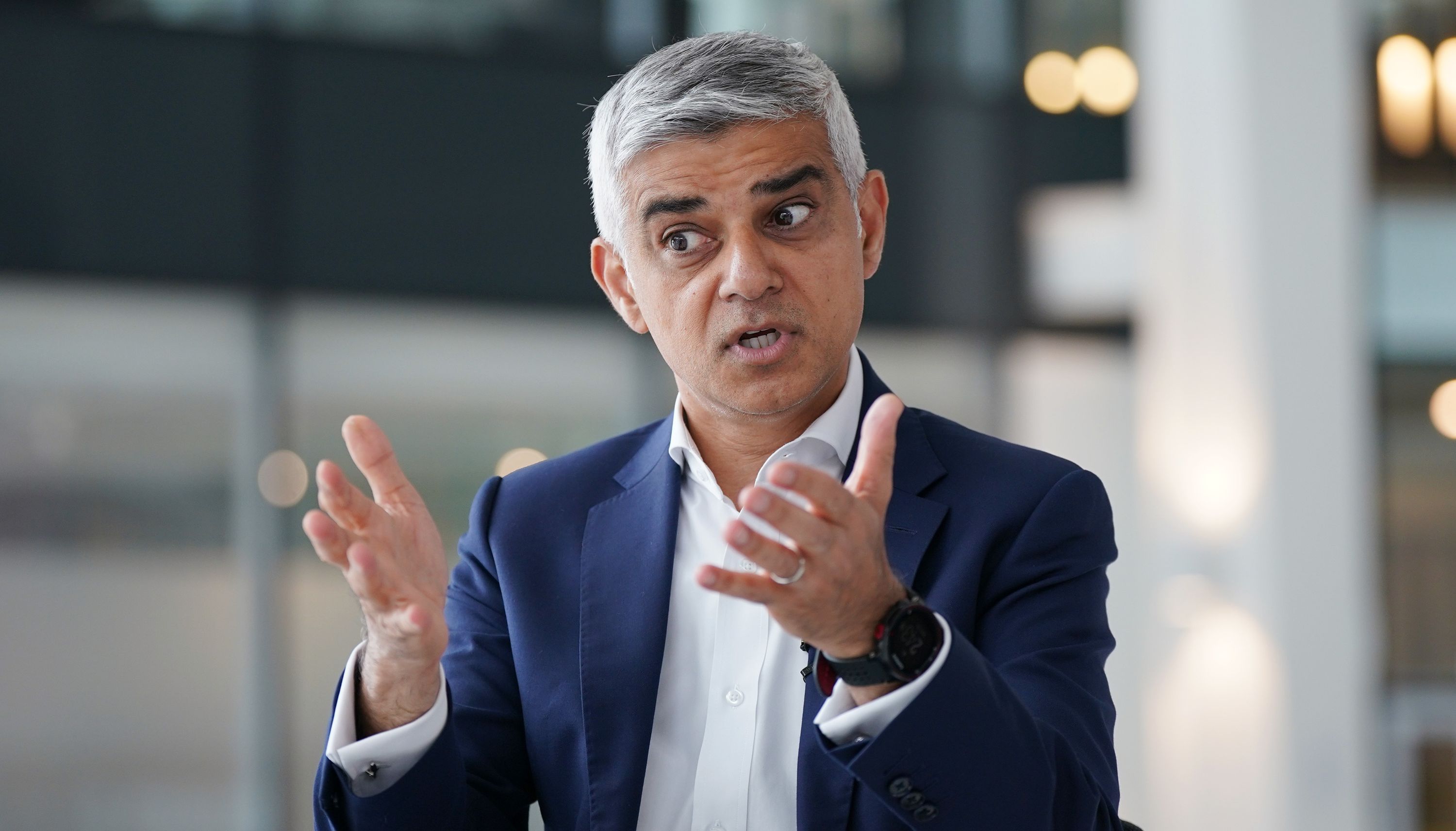 London Mayor Sadiq Khan
Yui Mok
LFB's assistant commissioner for operational resilience and control, Patrick Goulbourne, said: "The brigade remains ready to respond to incidents.
"However, we want to ensure our resources are available for people who really need our help.
"If you see a fire smouldering, please don't hesitate to call us.
"The sooner we know about a fire, the sooner we can bring it under control and prevent it from spreading further, reducing the need for us to mobilise additional resources.
"We are also strongly urging people not to have barbecues or bonfires today as the ground is incredibly dry, which means even the smallest sparks could cause a fire.
"Please take care during the heatwave as all emergency services are facing unprecedented challenges."
Mr Khan said on Twitter: "London Fire Brigade has just declared a major incident in response to a huge surge in fires across the capital today.
"This is critical: @LondonFire is under immense pressure.
"Please be safe. I'm in touch with the Commissioner and will share updates when I have them."
Smoke drifted over the M25 as almost 200 firefighters and 30 fire engines tried to extinguish a corn field blaze in Upminster, East London.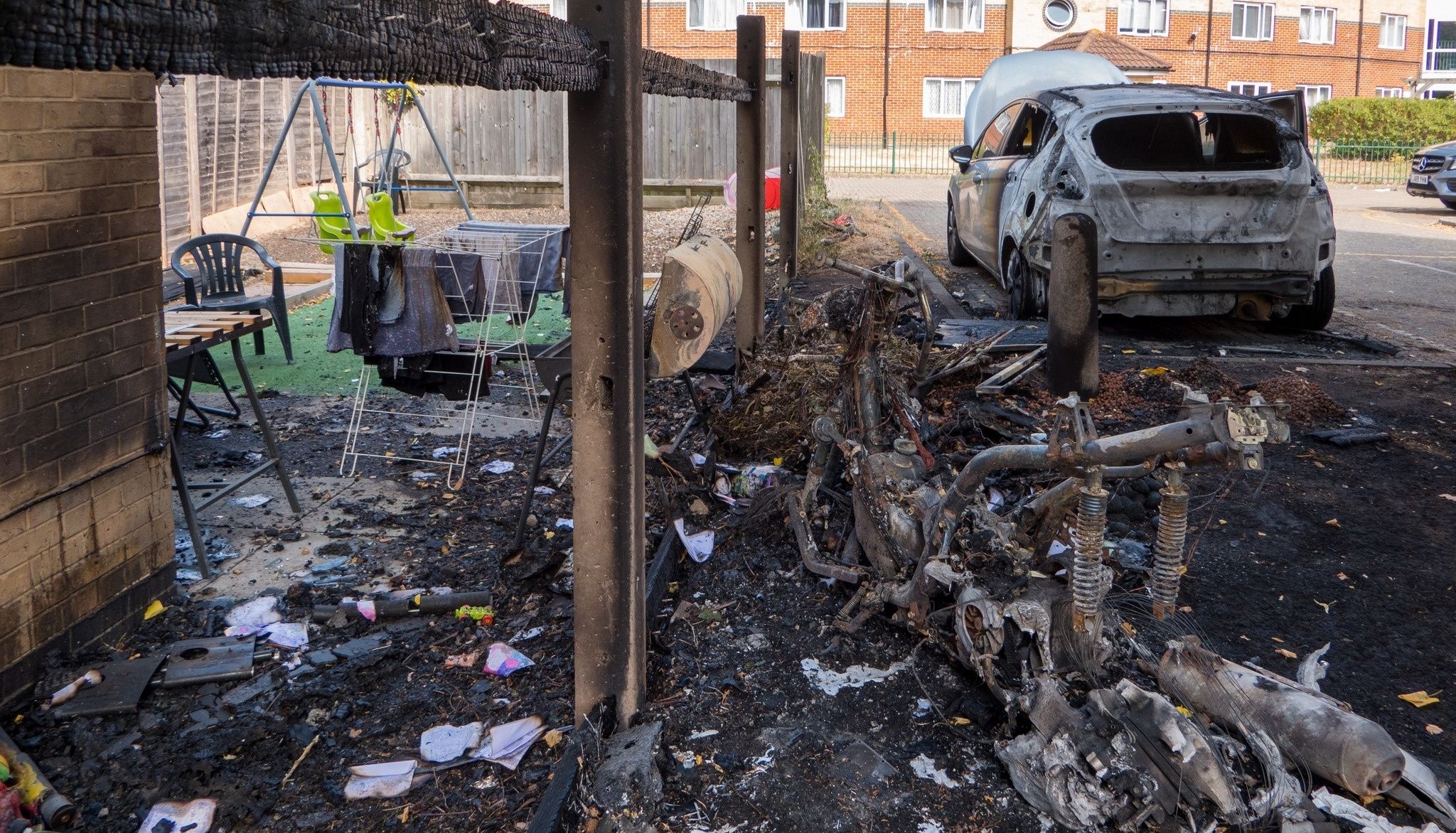 Fire crews have battled hundreds of wildfires across the country
London Fire Brigade
While around 100 firefighters are tackling a huge blaze in east London.
London Fire Brigade said 15 fire engines and around 100 firefighters were called to the scene in the village of Wennington at just after 1pm.
It came as temperatures in the area hit around 40C amid the heatwave blasting the nation.
At least one home appeared to be completely destroyed in the blaze, while smoke covered a wide area.
Nearby fields were seen to be scorched.
The fire brigade said on Twitter: "We've got 15 fire engines and around 100 firefighters dealing with this blaze on The Green in #Wennington."
The heatwave has also caused a string of other emergency situations across London.
Police searching for a 14 year old boy, missing in the River Thames since yesterday evening, have found a body.
Speaking on the incident yesterday, Superintendent Richard Smith said: "Despite the very best efforts of all involved, we must now sadly conclude that this young boy has died.
"His death is a tragedy and I cannot begin to imagine what his family will be going through. All our thoughts are with them.
"I know that on days like today when temperatures are at a record high, it might look appealing to jump in and cool off in rivers, reservoirs, lakes or other open water.
"Please don't. The dangers are real and this evening in Richmond we have seen the terrible consequences of what happens when it goes wrong.
"To young people in particular, I would urge you to be the person in your group of friends who says no and reminds others about the dangers. Your intervention could save a life and save another family from experiencing such an awful loss."