Published: 11/09/2022
-
12:47
Updated: 11/09/2022
-
14:51
Queen Elizabeth II would be "proud" to see "feuding" brothers Prince Harry and Prince William unite to pay tribute at Windsor Castle.
William and Harry greeted mourners and inspected flowers at Windsor alongside their wife's Kate, Duchess of Wales and Meghan Markle on Saturday.
---
It was the first time the pair have been seen publicly since the funeral of the Duke of Edinburgh last year.
Speaking following the gesture, royal expert Jennie Bond said she believes Queen Elizabeth II would be "relieved".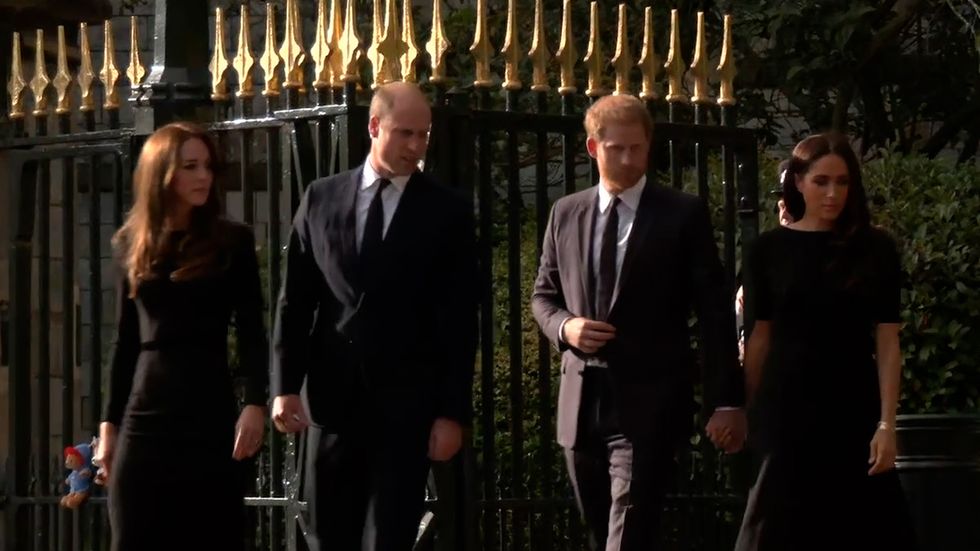 The couples spoke to members of the public after viewing floral tributes to Queen Elizabeth II
GB News
Ms Bond said: "If there is a positive legacy from this saddest of weeks, it is the sight of the Queen's feuding grandsons William and Harry united, at last, in grief, with their wives at their side.
"The 'Fab Four', as they were once hailed, looked slightly nervous as they made their surprise appearance outside the grounds of Windsor Castle to view the floral tributes and greet the crowds yesterday afternoon."
She added: "It was an olive branch which, it would seem, both Harry and William recognised.
"There is deep mistrust and suspicion about what Harry has written in his memoir, due out this autumn.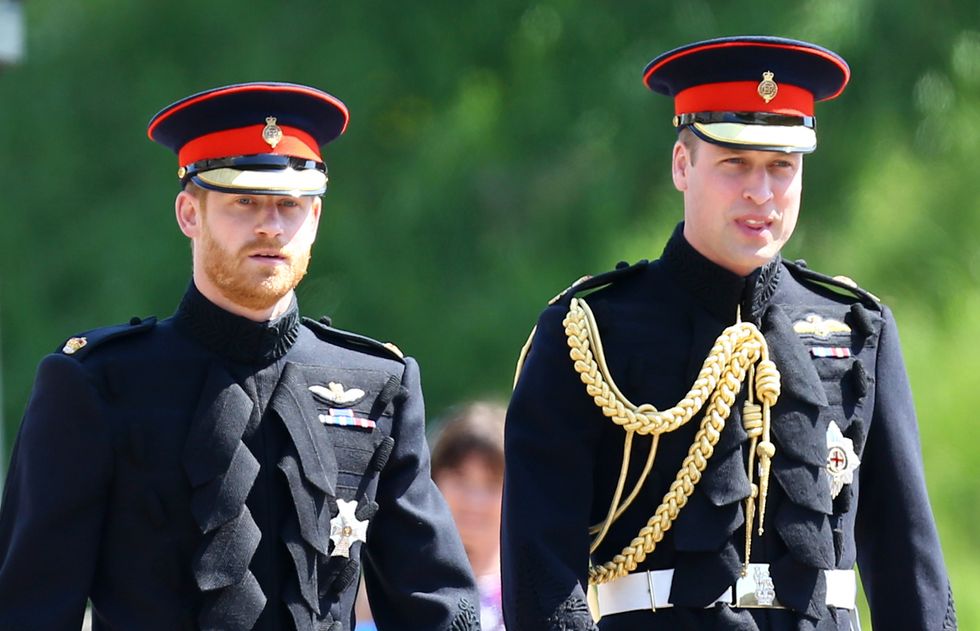 Prince Harry and Prince William
Gareth Fuller
"The concern that anything that is said confidentially may subsequently appear in a podcast or broadcast as a result of the Sussexes' deals with Netflix and Spotify remains as pertinent as ever.
"But last night marked a significant turning point.
"The four of them can at least put on a show of unity when it is needed, they can act with decorum and dignity.
"There is a long way to go. But their grandmother would surely be relieved and proud."
On Saturday, the Prince of Wales shared a touching tribute to Queen Elizabeth II.
The statement released by Kensington Palace said: "On Thursday, the world lost an extraordinary leader, whose commitment to the country, the Realms and the Commonwealth was absolute. So much will be said in the days ahead about the meaning of her historic reign.
"I, however, have lost a grandmother. And while I will grieve her loss, I also feel incredibly grateful.
"I have had the benefit of The Queen's wisdom and reassurance into my fifth decade. My wife has had 20 years of her guidance and support. My three children have got to spend holidays with her and create memories that will last their whole lives.
"She was by my side at my happiest moments. And she was by my side during the saddest days of my life. I knew this day would come, but it will be some time before the reality of life without Grannie will truly feel real.
"I thank her for the kindness she showed my family and me. And I thank her on behalf of my generation for providing an example of service and dignity in public life that was from a different age, but always relevant to us all.
"My grandmother famously said that grief was the price we pay for love. All of the sadness we will feel in the coming weeks will be testament to the love we felt for our extraordinary Queen.
"I will honour her memory by supporting my father, The King, in every way I can."