By Max Parry
Published: 18/01/2022
-
08:30
Updated: 14/02/2023
-
10:19
Tobias Ellwood, chair of the Commons Defence Committee, has told GB News that Vladimir Putin may invade 'Latvia, Lithuania and Estonia' if the Westdon't stop Russia taking Ukraine.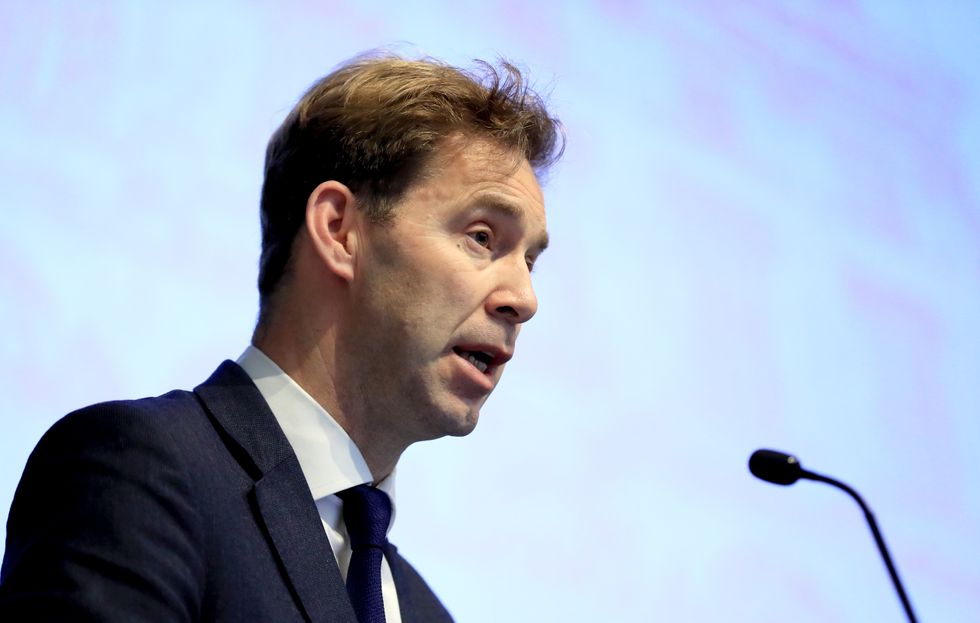 Tobias Ellwood MP warns that Latvia, Lithuania and Estonia may be invaded by Russia, if they West let Putin take Ukraine.
Gareth Fuller
---
In an exclusive interview, the Bournemouth East MP warned that the Russian President "is looking at his legacy'" and wants "greater control over the Russian-speaking parts of the Baltic and the Balkans."
This comes after three rounds of talks between western powers and Russia concluded with neither side garnering concessions from the other.
The talks which took place in Geneva, Vienna and Brussels, were designed to curb Russia's military preparations on the Ukrainian border, however the US and its NATO allies were unwilling to accept the Kremlin's demands.
Putin is seeking guarantees that Ukraine will not be permitted to join the NATO alliance as well as the withdrawal of NATO troops from central and eastern Europe.
The West's position is that Russia pull back their 100,000 troops from the Ukrainian border; an agreement appears highly unlikely.
Mr Ellwood said: "What you have with Russia is that as soon as he [Putin] is emboldened to take on Ukraine, where will he go after that?
'...he'll start looking at Latvia, Lithuania and Estonia.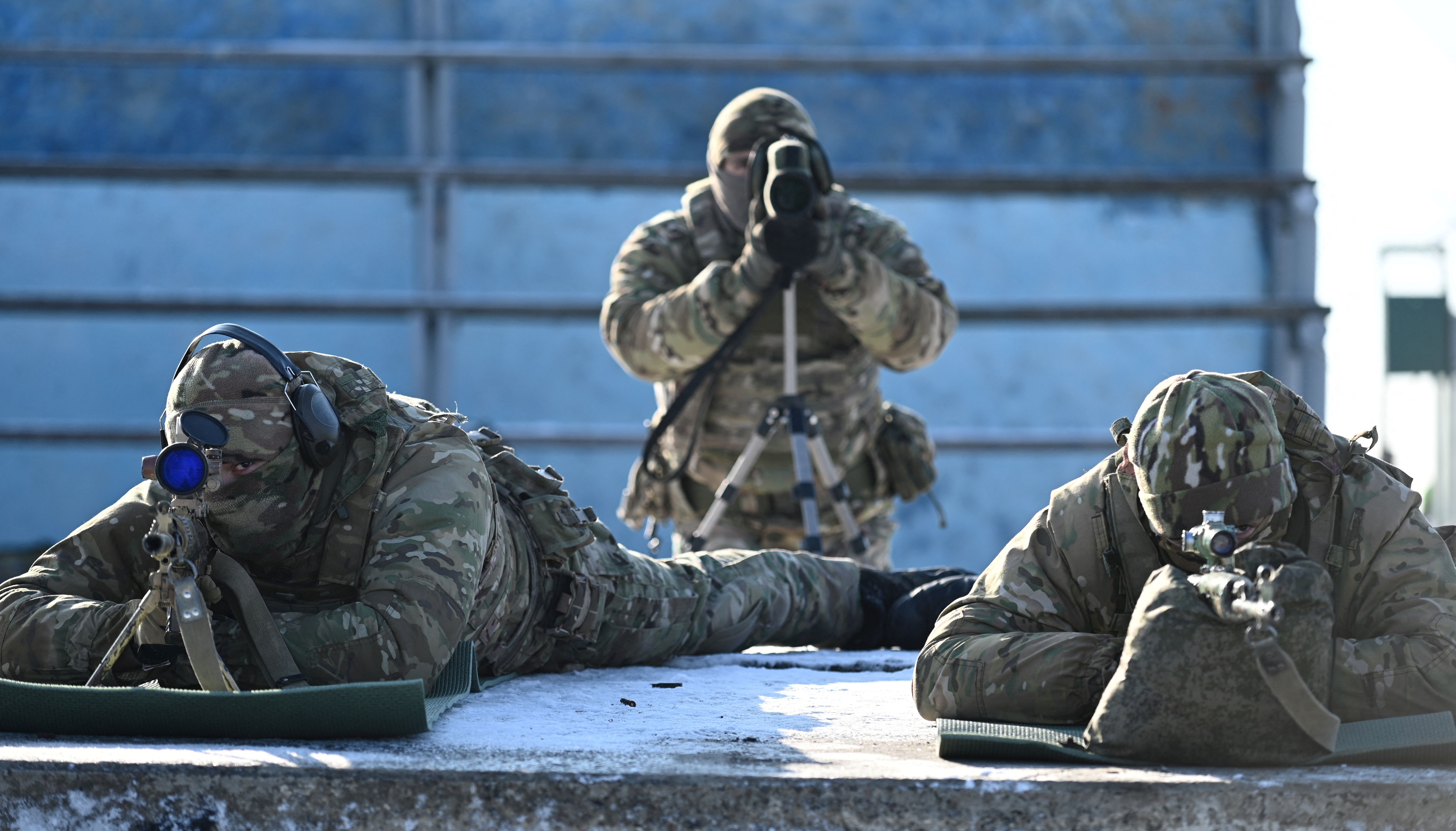 Snipers of the Russian armed forces take part in military exercises at the Kadamovsky range in the Rostov region, Russia.
SERGEY PIVOVAROV
"There's bit of land between Kaliningrad and Belarus and if he chooses to take that space, then all the Baltic countries are then isolated from western Europe and then you can see greater expansion.
"He's looking at a legacy now, so this is where he's going with all this."
The former British army captain was asked if he endorsed the Defence Secretary's comments, reported in The Telegraph, that Britain was ready to 'stand up to bullies' and 'defend those that cannot defend themselves.'
Tobias Ellwood MP, Defence Committee chair
We [Britain] won't go anywhere near it [Ukraine]
However, Mr Ellwood, who served in Bosnia, told GB News he does not anticipate western powers engaging with Russia militarily.
"As much as I respect Ben, he's in a difficult position because the decision was taken not to move any form of hardware into Ukraine.
"...as soon as a number of assets had been placed there, then it would have changed the entire dynamic of Russia invading because you bump into other flags.
'...Putin would have thought twice about invading but essentially we've lacked the appetite."
He went on: "It's, I'm afraid, an indication of how risk-averse the West has become, not wishing to have fights that we don't want to lose soldiers over.
"Yet, that's exactly why authoritarianism around the world is on the rise."
He further contradicted the Defence Secretary's position, noting bluntly: "We [Britain] won't go anywhere near it [Ukraine]..."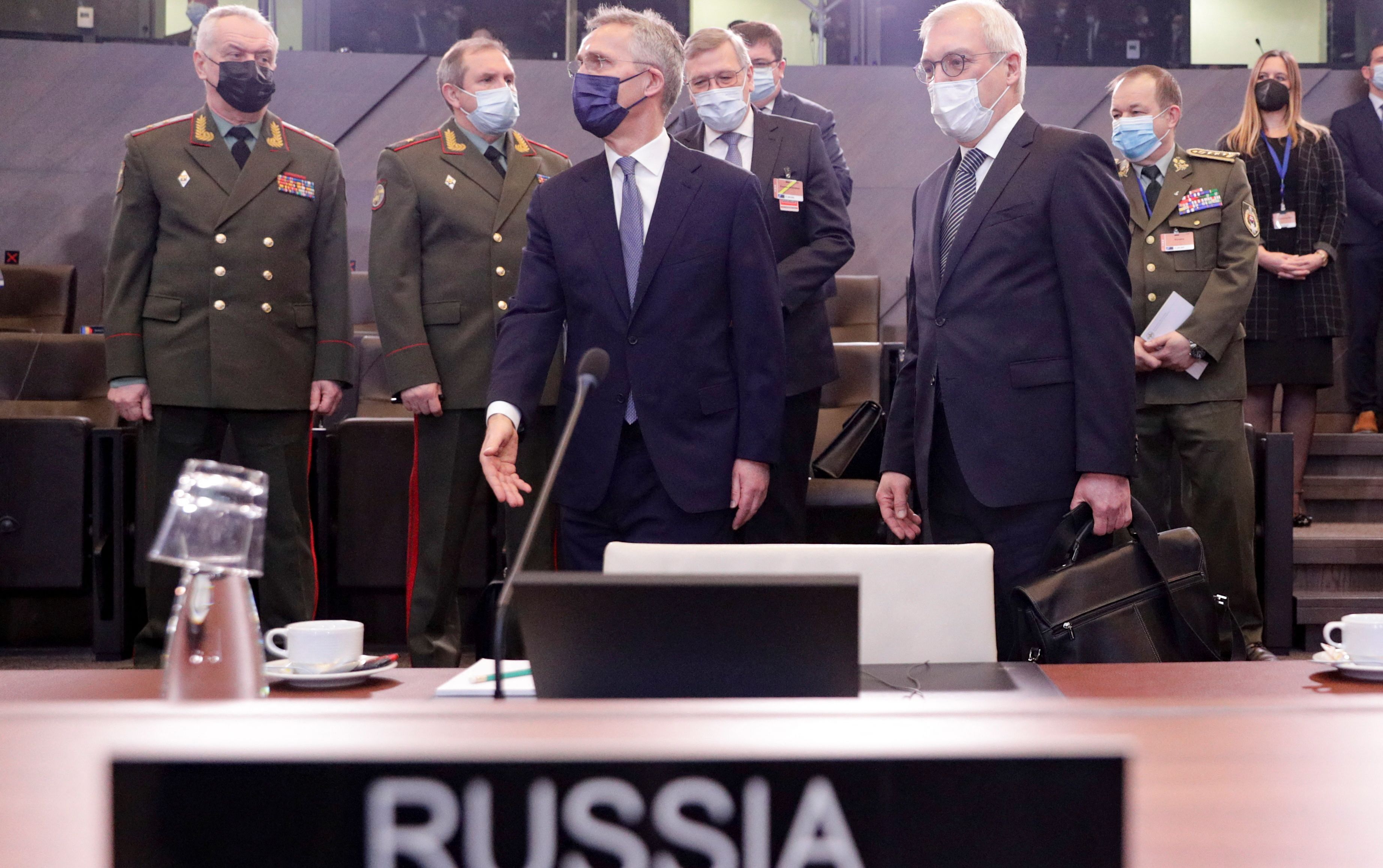 Russian Deputy Foreign Minister Alexander Grushko (left) and NATO Secretary General Jens Stoltenberg (right) are seen during NATO-Russia Council at the Alliance's headquarters in Brussels.
POOL
Jen Psaki, the White House spokeswoman, told reporters that the Kremlin is planning a "false flag" operation, in order to legitimise an invasion of eastern Ukraine.
"We have information that indicates Russia has already pre-positioned a group of operatives to conduct a false flag operation in eastern Ukraine" Ms Psaki said.
"The operatives are trained in urban warfare and using explosives to carry out acts of sabotage against Russia's own proxy forces."
Ms Psaki made the claims on the day Ukrainian government websites crashed following a cyber attack from an unknown source.
A Ukrainian government statement said: "All evidence indicates that Russia is behind the cyberattack.
"Moscow continues to wage a hybrid war and is actively building up its forces in the information and cyberspaces."