By Max Parry
Published: 07/03/2022
-
17:33
Updated: 14/02/2023
-
11:57
People smuggling gangs "roaming around Calais" could seek to exploit Ukrainian refugees hoping to reach the UK, according to Priti Patel.
The Home Secretary told MPs there is a need to avoid creating "choke points" in Calais and instead "encourage a smooth flow of people", as concerns were raised over Ukrainians being turned away from the French port city.
---
She initially confirmed a visa application centre (VAC) has been created en route to Calais rather than at the port, before later telling MPs the Government is still "setting up" the VAC.
Speaking in the House of Commons, shadow home secretary Yvette Cooper asked if the Home Office has set up a VAC before adding: "Or are people still being sent on hundreds of miles journeys back to Paris or to Brussels in order to basically get the checks they need to get safely into this country?"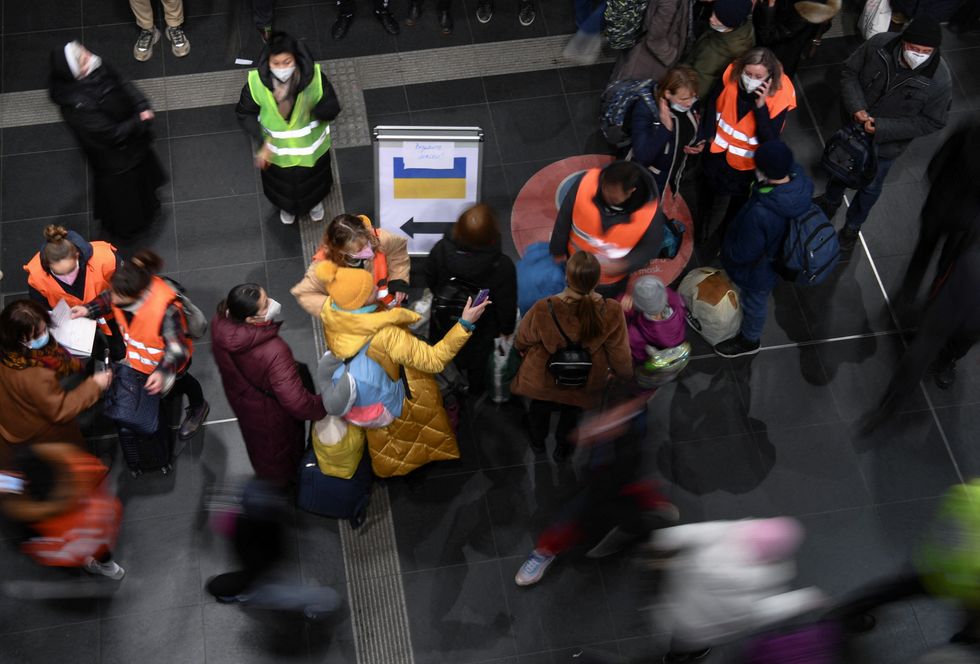 Volunteers in high-visibility clothing help refugees fleeing Russia's invasion of Ukraine who have arrived on a train from Poland at the central station in Berlin.
ANNEGRET HILSE
Ms Patel said the Home Office is "absolutely surging capacity across our VACs" to ensure "as many people are getting access", adding: "We have staff in Calais, we have support on the ground, it is wrong to say we're just turning people back, we're absolutely not, we're supporting those that have been coming to Calais.
"It's also important that we do not create choke points in Calais but encourage a smooth flow of people, and in particular I can confirm that we have set up a bespoke VAC en route to Calais but away from the port because we have to prevent that surge taking place.
"And also there's another issue… there are people smuggling gangs roaming around Calais and, not only that, I've been on calls over the weekend and today prior to coming to this House, where human trafficking cases are now manifesting at the border.
"It's absolutely right that we have the right processes in place to check people and to safeguard people."
Conservative MP Sir Roger Gale (North Thanet) said: "I have been told that people arriving in Calais are being told they had to go to Paris or Brussels to get visas.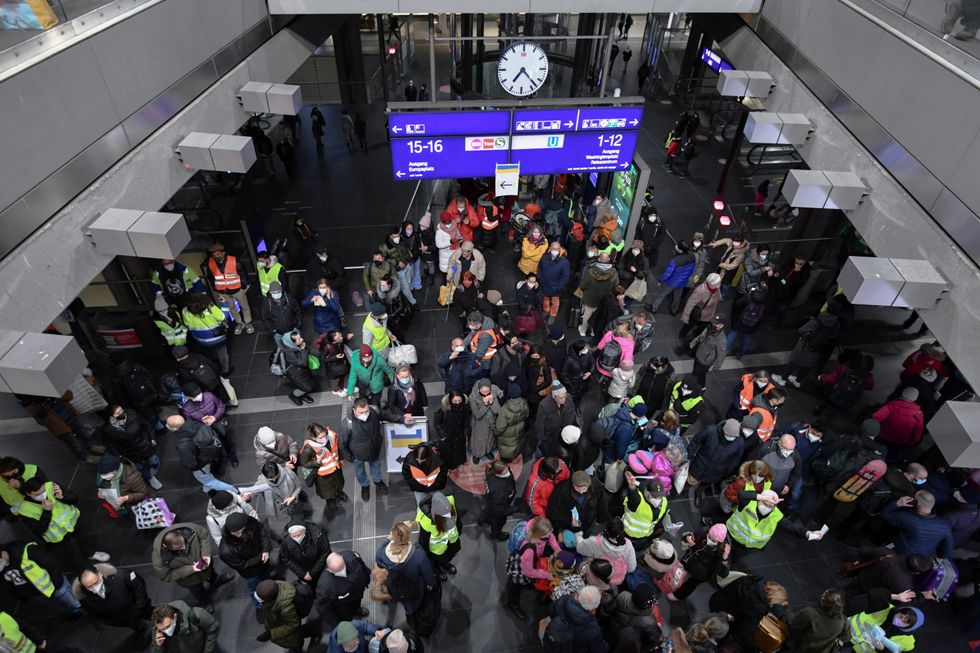 Volunteers in high-visibility clothing help refugees fleeing Russia's invasion of Ukraine who have arrived on a train from Poland at the central station in Berlin.
ANNEGRET HILSE
"Is that correct or not? If it's not correct, please tell me why it's being said.
"In 1972, we took into Kent thousands of Ugandan Asians. We did it almost overnight and without any difficulty at all.
"Last Monday, (Ms Patel) told me she'd cut away the red tape. Why aren't we doing it?"
Ms Patel said she had made it clear about the VAC set up en route to Calais, adding: "People have been coming to the UK from Calais."
She added: "I did say we would cut away process but he's already heard me say there are security concerns and considerations."
Ms Patel said, following talks with her counterparts in other countries and the Ukrainian ambassador to the UK, there was a "call to keep people in region" – insisting the wider aid effort can assist with this.
Labour MP Stella Creasy (Walthamstow) said: "As of an hour ago, there was a poster up in Calais that says simply 'no visas delivered in Calais'.
"It tells people to go to an online form and then go to Paris or Brussels."
Ms Creasy said the Ukrainian community in the UK feel "horrified, frustrated and furious to see their relatives who are in Calais being given such information and such a lack of clarity".
Ms Patel also told MPs the "first quality assured" figures on the Ukrainian family visa scheme will be released on Monday evening, adding: "The figures that are public are absolutely inaccurate and they have not been assured by the Home Office."
The Home Office has been under pressure to do more to help people feeing the war after it revealed on Sunday that only "around 50" visas had been issued under the Ukraine Family Scheme as of 10am that morning.