By Anna Fox
Published: 03/06/2022
-
08:57
Updated: 14/02/2023
-
11:09
GB News Presenter Nigel Farage faced a barrage of political comments yesterday afternoon, after interviewing members of the public on "what does today mean to you?"
Nigel spoke with members of the public, who shared their joy at the Queen's Platinum Jubilee celebrations.
---
One fan, who sported a flower crown told Nigel: "It was beautiful. Being British makes you feel very proud when everyone comes together like this".
A couple, who had miniature union jack crowns perched on their heads added: "Its just fantastic, she's been so remarkable the Queen".
A gentleman who clutched onto his son, said: "Its a once in a lifetime, monumental moment and I sort of felt that I had to come".
Upon leaving the royal parks, Nigel was subject to political slurs, acknowledging that he is "quite recognisable", the presenter divulged the issue.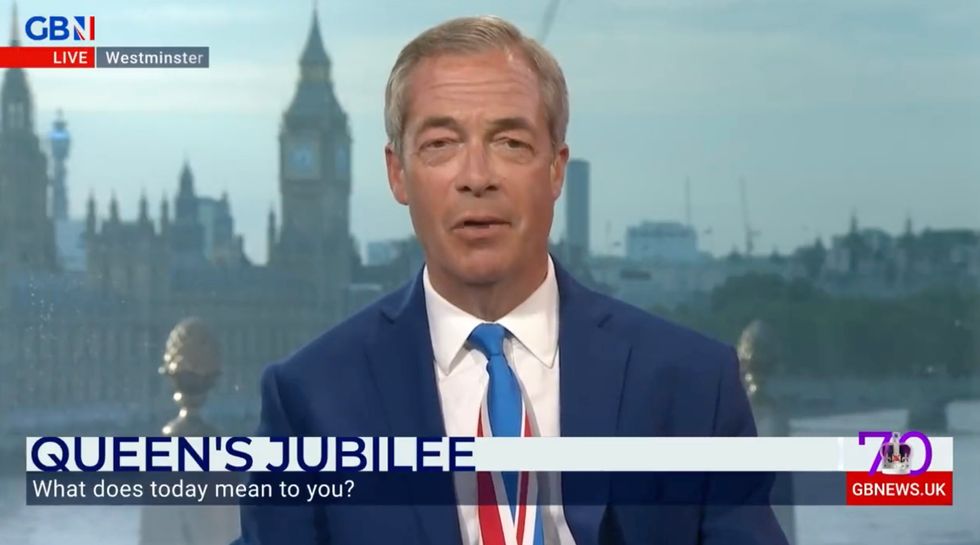 Nigel Farage faced "political slurs" when interviewing members of the public at Jubilee Celebrations
GB NEWS
One women reportedly accosted Nigel with political slurs.
The GB News presenter slammed the inappropriately timed comments, stating: "Today wasn't a day to air political disagreements of any kind at all!".
Farage added: "I'm pretty used to that and I'm big enough and ugly enough to take it but goodness me but didn't the crowd turn on them".
Jubilee celebrations continue today with proceeding at St Paul's set to begin at 11.30am, with members of the Royal Family including the Duke and Duchess of Sussex set to attend.
The Queen has pulled out of the thanksgiving service, after experiencing "discomfort" at the parade at Buckingham Palace.
The decision was made with "great reluctance" after pondering on the "journey and activity required", the Palace reported.
The four days of celebrations are marking the Queen's 70-year reign.
The 96-year-old monarch appeared twice yesterday at Buckingham Palace balcony, flanked by other senior royals, as they watched a military parade and waved at thousands of well-wishers gathered on The Mall.