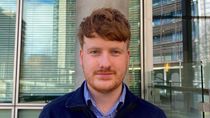 Published: 03/02/2023
-
15:02
Updated: 03/02/2023
-
16:44
Lancashire Police have shared what they believe happened to missing Nicola Bulley as they released new information today, pinpointing the disappearance to a 10 minute window.
Nicola went missing last week whilst walking her dog, with police issuing urgent appeals to the public for information.
---
Earlier today her partner shared his heartbreak at her disappearance, saying he needed to be there for their two daughters.
* GET LIVE UPDATES ON THIS STORY - SUBSCRIBE TO OUR YOUTUBE CHANNEL NOW *
Speaking at a press conference this afternoon, Superintendent Sally Riley of Lancashire Police provided the public with an update in the ongoing search for Nicola.
The police have said their "main working hypothesis" is that Nicola fell into the River Wyre and insisted "this is not suspicious but a tragic case of a missing person".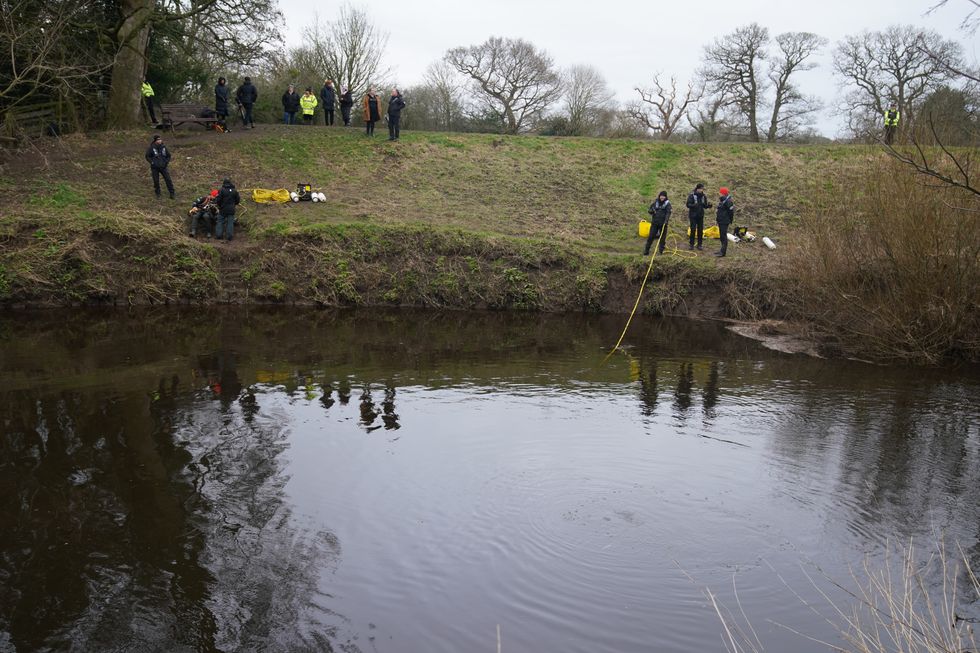 Specialist search teams from Lancashire Police, beside the bench (top left) where Nicola Bulley's phone was found.
Peter Byrne
She said: "The inquiry team has undertaken a number of dashcam, CCTV and ring doorbell footage. This has allowed us to eliminate any trace so far of Nicola having left the riverside, which is really important.
"We believe that Nicola was in the riverside area and remained at the riverside area. We remain open to any inquiries that might lead us to question that, but at this time we understand that she was by the river.
"Our main working hypothesis therefore is that Nicola has sadly fallen into the river, that there is no third party or criminal involvement and that this is not suspicious, but a tragic case of a missing person.
"This is particularly important because speculation otherwise can be really distressing for the family and for Nicola's children."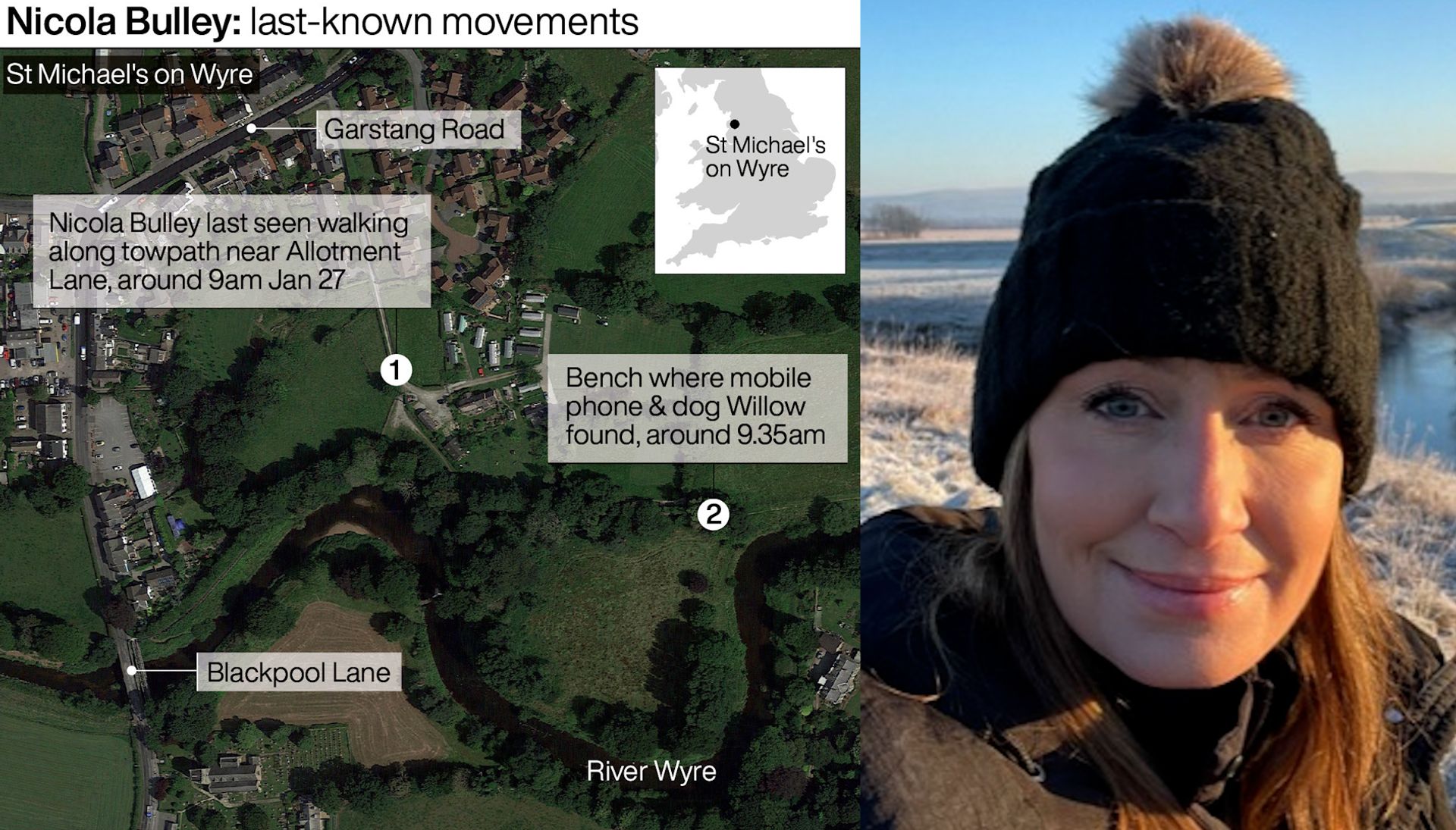 The last known movements of Nicola.
PA
She also said that the police "only have a 10-minute window in which we cannot account for Nicola's movements" between 9:20am and 9:30am.
Superintendent Riley also provided a list of clothing and accessories police are searching for in connection with missing mother-of-two Nicola Bulley.
She told a press conference: "I do have an update on the clothing that Nicola was last seen wearing, and this is something that the public who live in the area, or who walk their dogs on the river path near to St Michael's or downstream of St Michael's towards Morecambe Bay, can look out for.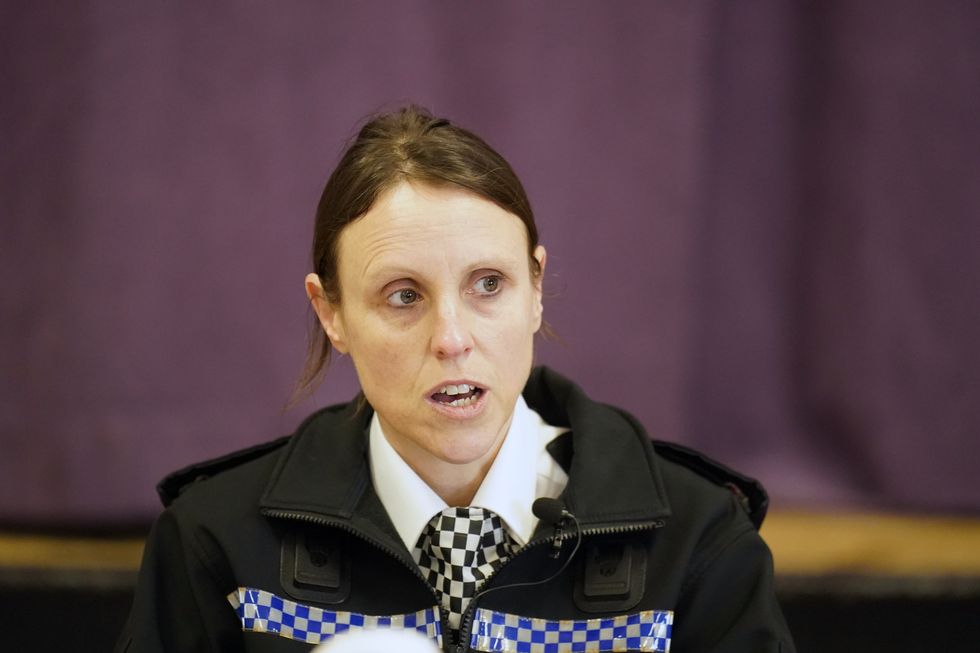 Superintendent Sally Riley of Lancashire Police provided an update.
Danny Lawson
"They are an ankle-length black quilted gilet jacket, a black Engelbert Strauss waist-length coat which was worn underneath the gilet, tight-fitting black jeans, long green walking socks tucked into her jeans, ankle-length green Next wellies, a necklace and a pale blue Fitbit.
"It's really important that the public pay heed to those very specific clothing descriptions please, because factual sightings of those items would be very useful to us."
She added: "I would also appeal to the public to keep themselves safe in this inquiry. People going out at night in the darkness could fall into the river and face other hazards.
"Likewise, if they go out in boats on the river, please only do so if you've got experience in that."