Published: 07/04/2022
-
18:49
French presidential candidate Marine Le Pen has vowed to fine Muslims who wear headscarves in public if elected.
The contender made the promise in a final push for votes with three days ahead of the election.
---
Le Pen, 53, explained how her pledge to ban the headscarf in all public spaces would be implemented, saying it would be enforced by police in the same way as seatbelt-wearing in cars.
Talking on RTL radio, Ms Le Pen said: "People will be given a fine in the same way that it is illegal to not wear your seat belt. It seems to me that the police are very much able to enforce this measure."
This comes as a new Harris Interactive poll shows rival President Emmanuel Macron's lead is dwindling, as Le Pen has captured 48.5 percent of voter intentions with just a few days to go.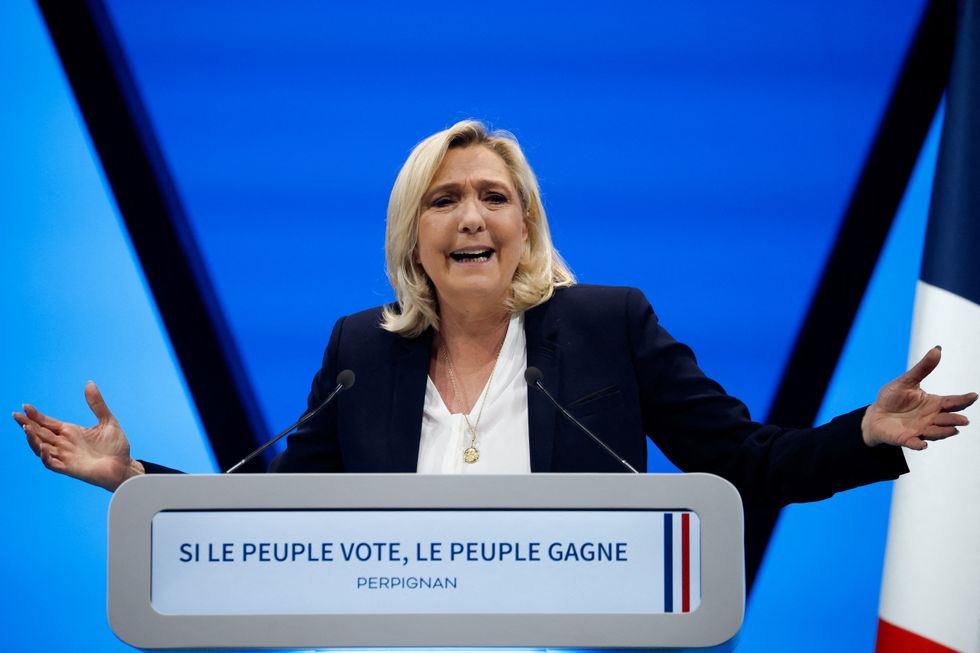 French far-right presidential candidate Le Pen campaigns in Perpignan
ALBERT GEA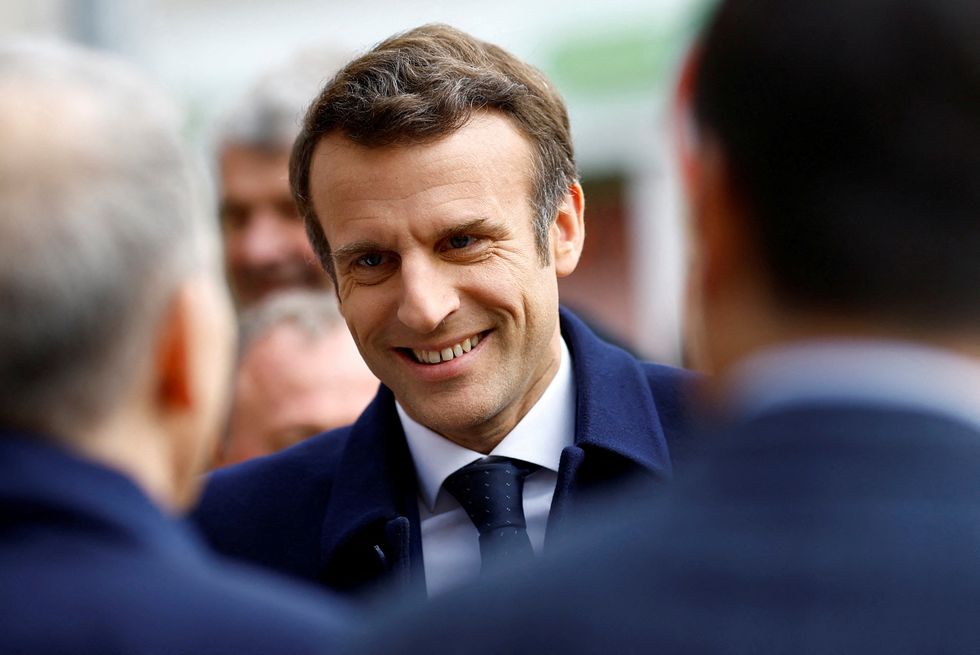 French President Emmanuel Macron
STEPHANE MAHE
Macron's faltering poll lead has been put down to his performance during the Ukraine-Russia crisis.

Most recently, he was accused of "negotiating with Hitler" while attempting to convince Vladimir Putin to end his war.
The scathing comments come from Polish Prime Minister Mateusz Morawiecki who slammed his French counterpart for engaging with The Kremlin and failing to take decisive action against the Russian leader.
Mr Morawiecki said: "What have you achieved? Have you stopped any of the actions that have taken place?
"Criminals are not negotiated with, criminals must be fought. Nobody negotiated with Hitler."
Anne-Elisabeth Moutet, Paris columnist for the Telegraph said on GB News: "She is within distance of victory, she might not win, but she could."
Ms Moutet went on to tell presenter Mark Steyn that Le Pen has benefited from the candidacy of far-right extremist Eric Zemmour.
She said: "She has benefited from the presence of Eric Zemmour because he has put out into the open many things in such a frank manner that she can in many ways ride on his idealogical cocktails while she is softer, nicer and more feminine.
Ms Moutet added: "She had a rough time at the start of this campaign, but she is now basking in the sunshine of a possible victory.
A Le Pen presidency is predicted to have a dramatic impact on global affairs, as she has vowed to pull France out of NATO once elected.
Le Pen said during a meeting with her constituents in the northern city of Reims: "We must defend our interests freely and get out of the logic of military alliances … Therefore, we will get out of the unified NATO command, so as not to allow us to be dragged again into useless conflicts."
Political analyst Mujtaba Rahman of the Eurasia Group said a Le Pen presidency would pose an existential crisis for the European Union and Nato at a particularly crucial historical moment.
Mr Rahman said: "It would fundamentally undermine the western alliance."
"The EU would no longer be able to put up a coherent front against Russia in Ukraine. France would become a destructive partner within the EU, and that would have profound implications for the EU's ability to function, and would fundamentally undermine the EU's place in the world," he told The Independent.