Published: 14/04/2022
-
07:37
Covid restrictions for Welsh business are being axed on Monday despite new figures showing record infections.
Facemask requirements, however, will still be in place for at least another three weeks in health and social care settings.
---
First Minister Mark Drakeford said the decision "doesn't mean the pandemic is over" and that facemask rules will help protect the most vulnerable.
In the last week of March, Wales scrapped self-isolation rules and the legal requirement to wear a mass on public transport and in shops.
Mr Drakeford said: "Unfortunately coronavirus is still with us – we've seen a spike in infections over the last month, with large numbers of people falling ill and a surge in hospital admissions.
"We hope we are beginning to turn the corner. But it's really important we all continue to take steps to protect ourselves and each other."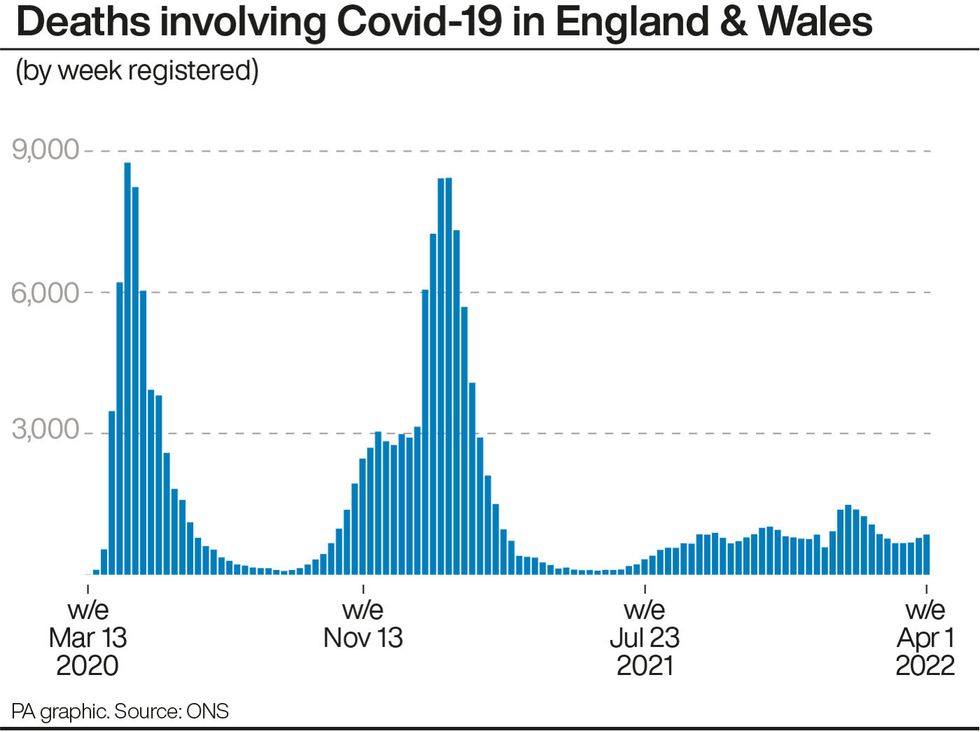 Deaths involving Covid-19 in England & Wales
PA Graphics
The latest lifting of rules comes as the number of deaths involving coronavirus registered each week in England and Wales is continuing to rise.
A total of 853 deaths registered in the seven days to April 1 mentioned Covid-19 on the death certificate, according to the Office for National Statistics (ONS).
This is up nine percent on the previous week and is the second clear week-on-week increase.
The figures suggest deaths are now on an upwards trend, following several weeks where the numbers appeared to have levelled off.
Today, a new Covid-19 vaccine developed by Valneva is approved in the UK.
The UK's independent medicines regulator is the first in the world to approve the Valneva product, MHRA said in a statement.
It is the sixth Covid-19 vaccine to be granted an MHRA authorisation.
It came as the number of deaths involving coronavirus registered each week in England and Wales continues to rise, although levels remain well below those reached during previous waves of the virus.