By Tom Evans
Published: 15/03/2022
-
11:36
Updated: 15/03/2022
-
11:52
Boris Johnson urged the West to end its "addiction" to Russian energy, saying of Russia's Vladimir Putin: "If the world can end its dependence on Russian oil and gas, we can starve him of cash, destroy his strategy and cut him down to size."
Writing ahead of the publication of his British Energy Security Strategy this month, Mr Johnson pushed for nuclear power expansion.
---
He said: "So now is the time to make a series of big new bets on nuclear power.
"The 1997 Labour manifesto said there was 'no economic case' for more nuclear – even though nuclear is in fact safe, clean and reliable.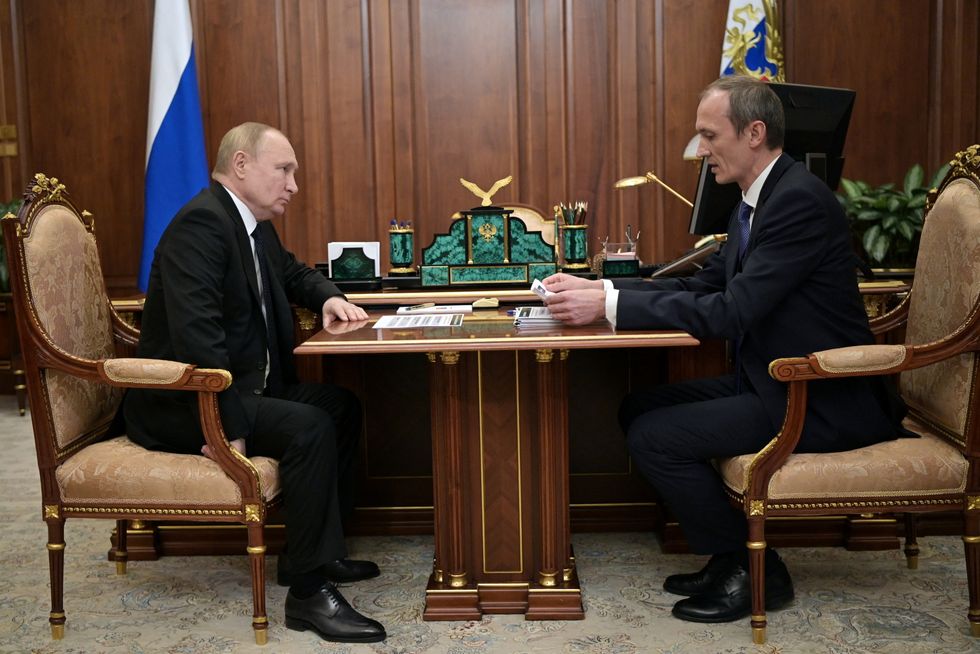 Russian President Vladimir Putin listens to Deputy Prime Minister Dmitry Grigorenko during a meeting.
Reuters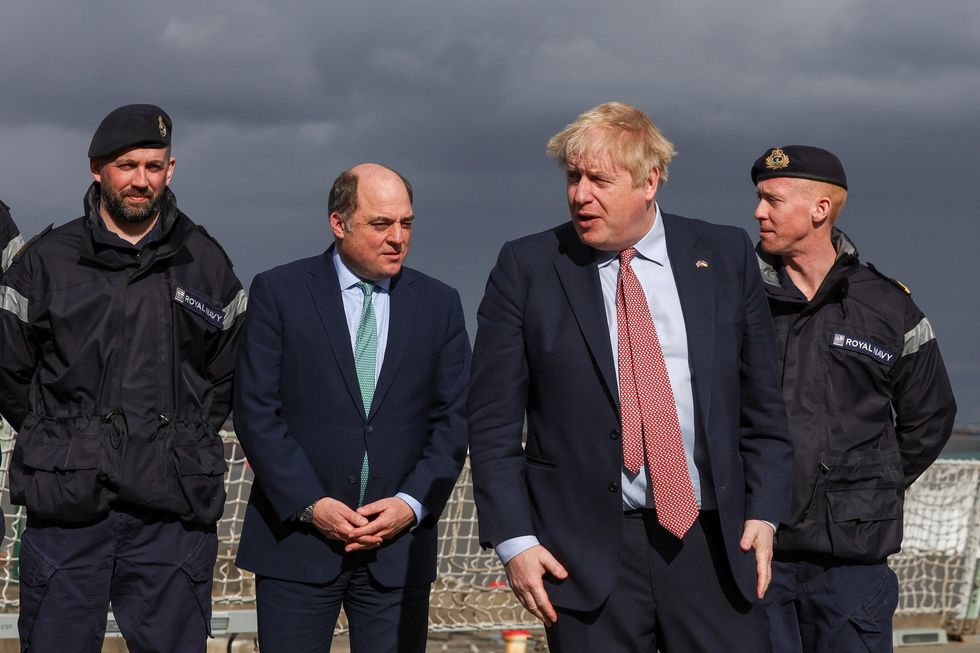 Prime Minister Boris Johnson and Defence Secretary Ben Wallace visit Cammell Laird shipyard in Merseyside Britain, March 10, 2022. REUTERS/Phil Noble/Pool
PHIL NOBLE
"It is time to reverse that historic mistake, with a strategy that includes small modular reactors as well as the larger power stations.
"It was the UK that first split the atom. It was the UK that had the world's first civilian nuclear power plant. It is time we recovered our lead."
He continued in his piece for the Daily Telegraph: "In the years ahead, green technology will enable us to continue our extraordinary progress in reducing carbon emissions.
"We have switched away from coal-fired power stations and we are switching to electric vehicles."
The Prime Minister also advocated greater investment in renewables, which he said are "invulnerable to Putin's manipulations".
He concluded: "Renewables are the quickest and cheapest route to greater energy independence.
"They are invulnerable to Putin's manipulations.
He may have his hand on the taps for oil and gas, but there is nothing he can do to stop the North Sea wind."
It comes as 90 percent of people in the UK admit they have been affected by rising energy prices, with three in four having to change their consumption habits.
A new study commissioned by Saxo Markets finds that:
91 percent of UK residents have been affected by rising energy prices in some capacity.
More than three in four people from the UK have changed their consumption habits to lower their energy bills
Only 12 percent of the UK believe the Government shouldn't intervene to better the situation, with 79 percent saying Boris Johnson's Cabinet should step in
Mike Owens, UK Sales Trader at Saxo Markets, said: "Rising energy prices have become a growing concern in recent months as consumers face hefty price hikes on their monthly bills, with the worst possibly still to come.
"Our survey results show how these costs, which have stemmed from the incremental price increases of wholesale gas and crude oil, have impacted such a large percentage of the UK with nine in ten people feeling the effects.
"With the escalating conflict in Ukraine, greater energy demand as European economies recover from coronavirus and the need to replenish depleted gas stores, the energy crisis isn't going away any time soon.
"The results show three in four people (75 percent) have already had to change their consumer habits to save on their bills, which would indicate that at these price levels we're not too far from experiencing demand destruction that would then threaten to cut off growth.
"Four in five would like the Government to step in and alleviate some of the financial pressures being heaped on everyday people.
"How likely this is to happen? It's unsure – and particularly at a time when many uncontrollable factors are contributing to energy price increases."